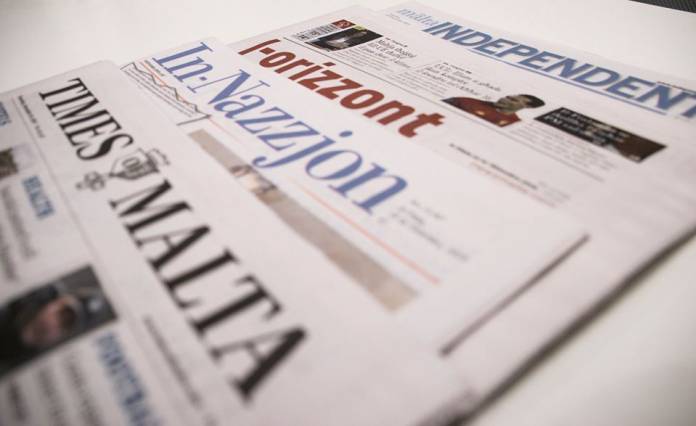 Good morning,
These are today's newspaper front-page stories in Malta
The Times claims that the first coronavirus restrictions are expected to be relaxed this week but says that ministers and government advisers disagree over which businesses should be allowed to re-open first.
L-Orizzont announces that no new Covid-19 cases were recorded on Sunday, the first time in seven weeks. Health Minister Chris Fearne said that measures could be eased but warned about a second wave of infections.
In-Nazzjon says that another 33 patients recovered on Sunday, taking the number of closed cases to 283. Health authorities said that lockdown measures can be eased after two weeks without new cases.
The Independent says that the police have no legal right to stop residents of the former Paloma Hotel from gathering on the roof. Social media comments raised alarm over people not observing social distancing laws, but the police said the rule only applies to public spaces.
L-Orizzont quotes Prime Minister Robert Abela who said that, despite the encouraging signs, the pandemic has still not subsided, and it is not the "time for celebrations" yet. Abela said that Malta showed that it was well-prepared for the outbreak.
The Times reveals that the Permanent Commission Against Corruption is examining the facts about a 2014 meeting between businessman Yorgen Fenech and then parliamentary secretary for planning Michael Farrugia.
The Independent requests an update on the investigation into the building collapse in Gwardamangia a year ago. A spokesperson for the police said that the process is ongoing, and no magisterial inquiry has been appointed so far.
In-Nazzjon quotes PN Leader Adrian Delia who said that a Nationalist government would cancel the agreement with Steward Healthcare and return the hospitals to the public. Delia said that the Prime Minister failed to do so in 100 days.