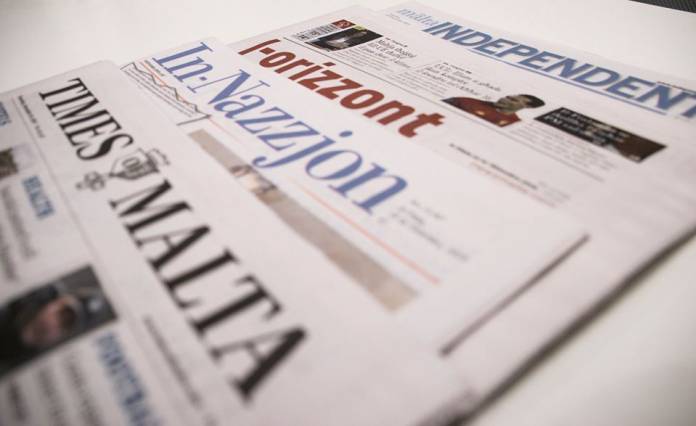 The front pages of Malta's newspapers, as expected, are dominated by the developments within the PN following an eventful day.
The Times leads by saying that PN Leader Adrian Delia has lost the confidence of the majority of MPs in the parliamentary group. Louis Galea, who was appointed by Delia to draw up party reforms, urged for a new leadership team to be appointed. The issue is described as an "open war" within the Nationalist Party by L-Orizzont. It adds saying that several Opposition MPs declared publicly that leader Adrian Delia should step down. The paper quotes lawyer Franco Debono who said that the party is at a cliff edge.
The Independent reports on the resignations of PN Deputy Leader Robert Arrigo and General Council President Kristy Debono. The former said it had become impossible to work with the party's MPs while the latter said she wanted to make way for new blood.
In-Nazzjon quotes PN Leader Adrian Delia who called on party members to play their part in bringing internal changes and take the party forward. Delia said that anyone with "genuine intentions" will find the party's door wide open.
Meanwhile In-Nazzjon reports that the president of the PN's Executive Committee has been requested by the party's reform chief Louis Galea to convene the committee as a matter of priority and chart the road ahead for the party.
In other stories…
The Independent carries an interview with Economy Minister Silvio Debono who said that government should help businesses develop but warned that it must not allow itself be "ruled by business."
L-Orizzont publishes an interview with General Workers Union secretary general Josef Bugeja who welcomed the ratification of international anti-abuse employment laws by EU members. Bugeja said the union has zero tolerance for violence and abuse against women at work.