Tista' taqra bil- Malti.
Five new coronavirus cases have been confirmed overnight, the Superintendent of Public Health Professor Charmaine Gauci said during the daily press briefing. This brings the total number of cases to 139. From the cases announced on Friday, one case was related to travel while the rest were of local transmission.
So far half of the cases were related to people being abroad while the other half were contracted in the community.
Two patients are being treated in the Intensive Therapy Unit at Mater Dei Hospital.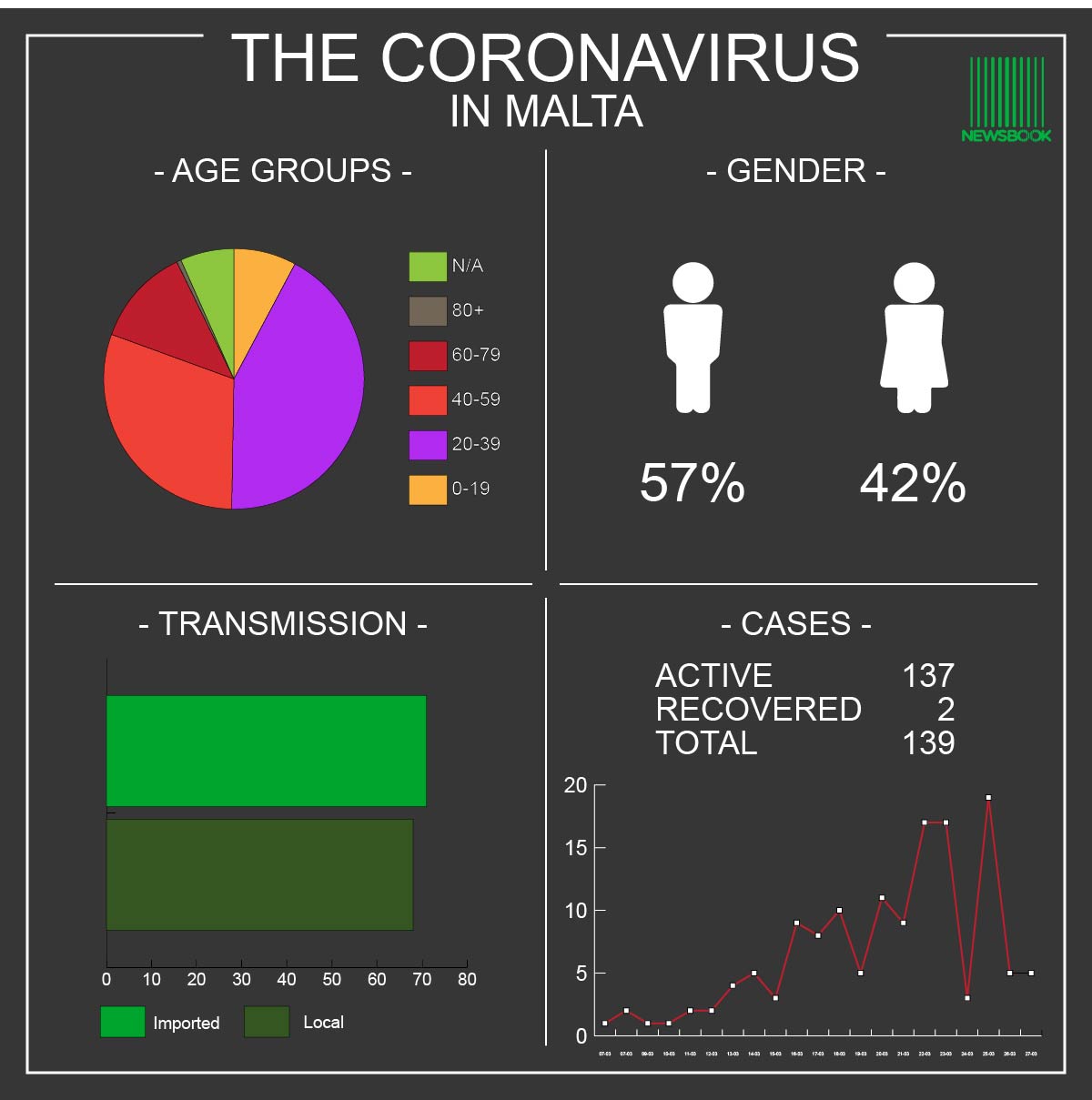 Thank you for following this live blog!

Through data modelling we are understand what is the next step.
Data modelling:

Those who use oral steroids or have been admitted to hospital with respiratory problems are most at risk.
Does the lockdown apply to asthmatics?
For the elderly who receive treatment at their home, the contact time between the patient and carer will be reduced, Professor Gauci explains.

A board will be evaluating the exemption requests. Those who require an exemption can either write an email (which will be announced later) or call on 111.
How does one apply for exemption?
'We are in contact with Malta Public Transport. A number of initiatives have already been taken by MPT including no people standing up,' Professor Gauci says. She adds that now the police are empowered to disperse congregations.
Professor Gauci is being asked about people congregating on bus stops.
Professor Gauci says that mental health is important. She stresses on the importance of doing physical activity classes at home during this time. The Superintendent underlines the importance of keeping in touch with our social circle.
Asked about the gap between the time person develops symptoms and the time that a person is tested, Professor Gauci says that some people would develop mild symptoms and would only come forward later. One of the new symptoms includes the change in smell and taste.
'Ideally relatives remain living together. We do understand that some people have to go together. Then yes, we can give an exemption for them to go to work and do essential trips, i.e. the buying of food and medicines,' Professor Gauci stated.
Professor Gauci explains that the health authorities have assessed the situation. Speaking about people who are under lockdown and are also farmers, Professor Gauci said that an exemption could be given.
Question time! The first question addresses the confusion which ensued after the measure concerning the lockdown of people deemed to be vulnerable. Are relatives living in the same residence under lockdown too?
Professor Gauci explains that despite a few cases were registered over the past days, it might not reflect the whole picture since some might have only mild symptoms and have not come forward yet.
Professor Gauci explained that people that fall under the categories deemed vulnerable should still go to their medical appointments.
Another measure includes that aimed at vulnerable people. Professor Gauci highlights that this is an important measure from a public health perspective since they are most at risk.


If there are public gatherings of more than five people, the police have been empowered to disperse such crowds. People are to keep a 2m distance from one another.
Social distancing measures have been introduced. Professor Gauci refers to the measures announced yesterday.
Professor Gauci explains that now we're seeing local transmissions and therefore the necessary measures are being implemented.
A 23-year-old man from Gambia, who lives in Malta and had symptoms on March 24. He did not go to work since he developed symptoms and his housemate is being tested.
A 30-year-old Indian man who works as a health care worker in Malta. He developed symptoms on 22 March. He was in contact with a person who had previously tested positive. Contact tracing is being carried out on staff and patients.
A 32-year-old Maltese man tested positive. The man had no travel history but was screened during random screening when he went to Mater Dei Hospital where he was due to have an operation. Another case of local transmission.
A 23-year-old Maltese man who was in contact with a patient who already tested positive. Mild symptoms developed and was tested yesterday. Two relatives and two colleagues are under quarantine.
A 23-year-old Maltese man who resides in UK and returned to Malta on 17 March. Symptoms developed a day after his arrival to Malta. Contact tracing procedures are currently underway.
Most patients are in stable conditions. Two cases were in ITU – the 61-year-old man who is stable. Another person was being treated in ITU and was then taken out. While yesterday a 60-year-old woman was admitted to intensive care.
Until now the cases have been 50% related to travel.
Five newly confirmed coronavirus cases. One of which is related to travelling while the rest are related to local transmission.
Newsbook.com.mt will keep you informed through Newsbook Alerts. Check out how you can subscribe to our WhatsApp service from here: https://newsbook.com.mt/whatsapp
Good afternoon and welcome to this live blog.
On Thursday five new cases were announced bringing the total number of confirmed cases to 134. Later during the day, Deputy Prime Minister and Health Minister Chris Fearne announced two new measures aimed at curbing the spread of the novel coronavirus as local transmission is expected to increase in the coming weeks.
If you want to be the first to receive the latest news on the coronavirus in Malta, download the Newsbook APP here.