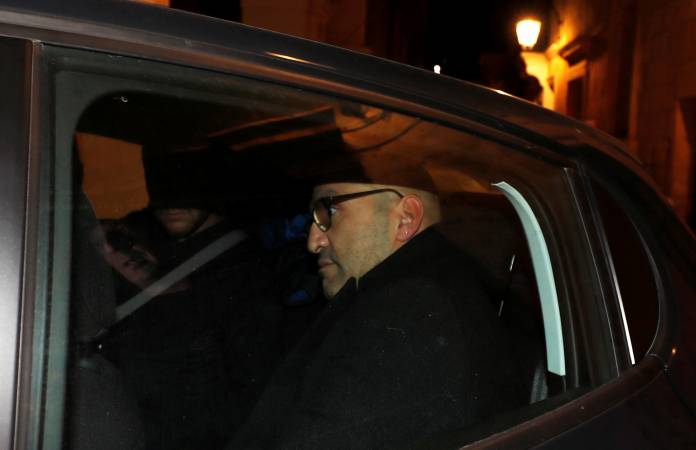 Tista' taqra bil- Malti.
What is Melvin Theuma stating?
He cannot under oath say that Schembri paid him or discussed with him the assasination
Yorgen told him that Schembri could not do anything to grant bail for Degiorgio brothers
He knew that Schembri and Fenech were great friends, and feared they would kill him
He was considering commiting suicide, but felt that it would please Fenech
Johann Cremona and Kenneth Camilleri, employed by the Prime Minister, discussed the assassination in his home
Two days after Fenech told him to find someone to kill Daphne, Fenech phoned him again to tell him that he would be receiving a call by Sandro Craus. Craus, from Castille, phoned and set him an appointment with Keith Schembri
He said he was too shy to ask why they would offer him a job
The photo of Theuma and Schembri was taken by Craus
What did the Prosecution say?
Theuma told the Police that when when the assassination was ordered, Yorgen was sent to Castille to meet with Schembri
George Degiorgio often called his brother Mario from prison, and ask him whether he met with Theuma
The recordings mentioned the names of some Kenneth (Camilleri) and Keith Schembri 
When Theuma was arrested, he broke into tears and said he wants to discuss the murder
When Theuma was arrested, he was in possession of a plastic box which needed to be opened by the Police Commissioner. Inside there were: 3 mobiles, a voice recorder, the photo of himself with Keith Schembri in Castille, and photo of a phone number of a certain Yorgen
Melvin was fixated into granting bail to the three alleged killers. Fenech assured him that he will speak to Schembri
During a conversation with Theuma, he said he had gone to update Schembri. Yorgen told Melvin that Schembri "froze when I told him"
In 2018, Schembri attended a meeting with the Prime Minister and "Owen" in Castille about the assassination, and Yorgen told Melvin about what happened during this meeting. Europol possess the original recordings. Experts are working to identify when the conversations occurred
What will happen in the next sitting?
Theuma's photographs and letter will be displayed
Keith Arnaud continues testifying, and will face the cross-examination
16:55 Case adjourned to 19 December at 10am and 23 December at 10am.
16:45 Dr Camilleri says that the case which will likely go to trial, could end up prejudiced because the media could only report what the prosecution said today. 'The defence was not given the opportunity to cross-examine the witness,' Dr Camilleri said.
Some of the evidence which was requested today, could not be brought because it is still subject to an ongoing magisterial inquiry.
'There is an inquiry on money-laundering about Theuma and others,' Philip Galea-Farrugia says, adding that the recordings have been exhibited there.
The court ordered that the photos and the letter are exhibited in the next sitting.
The court ordered the prosecution to make a request in the acts of the magisterial inquiry for those exhibits which are relevant to these proceedings to be made available as soon as possible.
16:42 Theuma's testimony was suspended. He was escorted out of the courtroom.
Police Inspector Arnaud explains that the devices are with Europol.
16:36 Arnaud is now asking Theuma about the week when the three men were arrested. Theuma says that he drew up his will then.
16:29 Police Inspector Arnaud asks about his decision to record their conversation. Theuma explains how he was fearing for his life and started recording their conversations.
'I was afraid that Keith Schembri would help Fenech out of this,' Theuma says, adding that since they were close friends – he added Schembri in his letter to Fenech.
'Under oath, I cannot say that Schembri has paid for the murder of Caruana Galizia or he was the mastermind,' Theuma said. Adding, that he gave sample of the recordings and the letter to Fenech. 'I told him that I was afraid they would kill me,' Theuma said, adding that Fenech told him that he was not vindictive.
Melvin Theuma told the court that he drove Fenech to Schembri's house in Mellieha and that is how he knew where Schembri lived. This happened before Daphne Caruana Galizia was assassinated. He was replying to a question on how he knew that Schembri lived in Mellieha.
'We met last on the Monday before my arrest when he gave me €20,000,' Theuma tells the court.
16:25 He was on a cruise when Mario Degiorgio called asking for €15,000 for Anca Pop's bail bond. He then called his partner's daughter to deliver the money.
'Do you know what the outcome was of the bail?' She was granted bail for sure.
16:21 In a reply to question Magistrate Montebello, Theuma says that he never asked Johann or Kenneth who sent them.
After being asked for €30,000, €30,000 and €60,000 – Mario Degiorgio would ask for an average of €2,000 to €3,000 a week. The money would be asked to cover foreign experts, school expenses, Theuma tells the court.
16:11 Outside his house, Kenneth asked Theuma what happened with Yorgen Fenech. Melvin recalls that this Kenneth distanced himself and called up someone.
'Then Kenneth told me that these will get bail on 22 and a bag with a million each,' Melvin tells the court.
Kenneth had told me to go tell them immediately.
Bail was not given to the Degiorgios.
After Fenech returned to Malta he informed him on what had happened, Fenech said he will not interfere as he did not give his word on bail.
Theuma says that Fenech then had to check if Schembri had sent Kenneth to him.
'Fenech then confirmed that Keith Schembri had sent Kenneth,' Theuma tells the court, adding that '
"He got involved in all of this because of me" Fenech allegedly told Theuma.
Kenneth had shown numbers were he recognised one and Kenneth accused Theuma of being the mastermind.
'I passed through two incredible years,' Theuma says saying that he did not ask anything.
16:08 The prosecuting officers and lawyers are arguing over a comment made under the breath. Magistrate Montebello slammed her hand on the table saying that it was contempt of court as she issued a warning.
16:01 Fenech told Theuma that Vincent Muscat (il-Kohhu) started speaking to the police. Theuma explains that he bought pizza turned up at Mario Degiorgio's house and he told him about Muscat. He said that he spent the night drinking. Once he switched on his phone he found a message from Fenech saying go and find tal-Maksar, the bomb was manufactured there.
He had an argument with Fenech.
Theuma says that Johann Cremona called him saying that he would go to his home. The next day, Johann Cremona and Kenneth (who worked at Castille) turned up outside his home.
Theuma says that he told Kenneth that the Degiorgio brothers wanted bail.
Magistrate Montebello asks Theuma how he came into a conclusion that his argument with Fenech, the call he got from Cremona and the conversation that happened between Cremona, Kenneth and Theuma.
15:58 Arnaud asks Melvin Theuma why he was scared.
'I was scared of both the Degiorgios and Fenech. How long will this man give them money? If Fenech killed me, he would be more relaxed. They didn't know who the mastermind was. They got to know from the news when I was going to be given presidential pardon,' Theuma says.
15:54 George Degiorgio wanted €60,000 for Anca Pop's bail which would be given to her mother and then used once given bail.
'We had an agreement that if the Degiorgio's were given bail, Fenech would have paid it,' Theuma tells the court.
15:44 After the arrests took place, he would send them €100 each with il-Lolly since he knew Muscat's children and Mario Degiorgio. Theuma says that he expected Fenech to fork out this money.
'Once I was in Hamrun, and there was this man known as il-Gandhi, who had just received it a call from Fredu Degiorgio,' Melvin says adding, 'Ah! had I known I would have said hi to him' Theuma recalls from that day sometime in January / February 2018. This man then introduced Theuma to Mario Degiorgio who he did not know up to now.
Theuma would start to visit Mario Degiorgio at his house and would buy meat, rabbit meat for him. Mario Degiorgio asked Theuma for €30,000 for the lawyers. Theuma says that he went to Fenech for the money. After some time Mario Degiorgio asked for another €30,000 and Fenech gave him an envelope containing €25,000. He added that he did not ask why he was given €5,000 than the requested amount, and he forked out the additional €5,000.
'If these three, decided to speak up, they would have revealed my name, since they only knew my name, they did not know about Fenech.' Theuma explains why he sought to keep a friendly relationship with the Degiorgios.
15:36 Theuma says that he took out the rest €120,000 some week after the killing and gave it to Alfred Degiorgio. He explains that he forked out the additional €5,000 which Degiorgio asked for.
Montebello asks Theuma if he asked Fenech from where he was getting the information about the raid and other information, he replies saying no. 'I met Alfred Degiorgio, and told him that there will be a raid,' Melvin Theuma says.
Theuma explains that he told Alfred Degiorgio he would keep him informed if he had new information about the raid.
15:19 Arnaud asks Theuma, 'cases that happened in 2017…what do you know?', Theuma stammers then says 'ah … ah … ah … yes'.
Lawyer Caruana Curran says 'ah now you're remembering what you have to say'.
Theuma says that Fenech told him to make sure she is killed and the case does not end up like Romeo Bone.
Defence lawyers Caruana Curran and Camilleri suggests that the prosecution is guiding Theuma on what to say.
Two days after Fenech informed Theuma to find someone to kill Caruana Galizia, Fenech called him saying that Sandro Craus would call him. Craus called him and gave him an appointment. As he walked up the stairs, Schembri met him in the stairs, gave him a tour, introduced him to Sandro Craus.
The magistrate persists in asking why he did not ask Craus or Schembri why he was being given an appointment and a job. Saying that he did not ask because he was 'embarassed'.
Sandro Craus took the photo of Melvin Theuma and Keith Schembri inside Castille.
'Have you ever asked why you were given the job?' the Magistrate asks again.
'The interview consisted of 'do you know how to send an email?" Theuma explains, adding that he had been sent to Jobsplus.
He was given a cheque by hand and three or four times the cheque came through the post.
'Does it happen frequently to you that you are given a job that you don't want?' the Magistrate asks.
Theuma replies no. He says that he told them upfront that he could not go to work as he was a taxidriver. The cheques were cashed. He tells the court that the money was stopped because he was asked in to go to work and he insisted that he couldn't.
15:07 'I gave him [Alfred Degiorgio] €30,000 which was in three packets on the side road next to Busy Bee,' Theuma explains, adding that this happened some fifteen days after the election.
Theuma says that Fenech started pressuring him to get on with the murder since the publication of information was imminent.
'She's slipping through our fingers. So many people [bullijiet] died; why shouldn't she?' (referring to Daphne Caruana Galizia) – George Degiorgio told Theuma once at the potato shed. Asked why, Degiorgio said this, Theuma says that she was frequently abroad.
Theuma testifies on the time he was taken to Bidnija by Degiorgio to show him what was being done.
Alfred Degiorgio had asked Theuma to which coffee shops and restaurants she goes to. Theuma had called Fenech asking, saying that Fenech referred him to a coffee shop in Naxxar and a restaurant in Rabat.
Theuma said that he knew that Alfred and George Degiorgio and Vincent Muscat would carry out the killing, since Degiorgio once told him not to tell anything to Darren Debono (it-Topo) since he would not be involved.
15:03 Melvin says that he went back to Fenech and told him that they asked for €150,000. Fenech says that he would revert back to him. However, the snap election was called and Fenech called Theuma asking him to stop the killing. Theuma tells the court that he told Fenech that he did not give the contract killers the go-ahead yet. He then told Alfred Degiorgio that the killing was placed on hold, with Theuma giving him €1,500 saying that he did not want to look bad.
Fenech would placed €150,000 in bets that Partit Laburista would win €300,000.
When the election result was announced, Fenech called Theuma to tell him that the killing is on. However, Theuma tells the court that he felt then that Fenech was sounded drunk – and ignored Fenech. When he gave him the €300,000 prize, Fenech did not mention anything about the money to the killers.
Later, Fenech gave Theuma an envelope containing €150,000 in €50 notes.
Calls were made using Signal and WhatsApp to avoid tapping, Theuma tells the court.
14:58 Arnaud asks Theuma to explain how he got involved in Caruana Galizia's murder.
'Once I had just finished working, and I got a call from Fenech asking me to meet him near Blue Elephant. I went to meet him and he said that he wants to kill Daphne Caruana Galizia since she had information about his uncle,' Melvin explains.
This happened some two or three weeks before the snap election was announced. Fenech had mentioned George Degiorgio, but Theuma did not have their contact details. He called Darren Debono (it-Topo) asking for Alfred Degiorgio's number whom he knew since once he had rented out a flat to Debono and Degiorgio.
When he met with Alfred Degiorgio, Degiorgio allegedly asked, 'but this guy pays?' when Theuma told him that he was sent to contract Caruana Galizia's killing.
14:57 Theuma explains that they would travel together, and Fenech would pay.
14:52 Theuma has two taxis, one of which is rented out. He has been working as taxi driver for six or seven years. Theuma explains that it was Yorgen Fenech who allowed him to operate from Portomaso, as he pointed to Fenech in the courtroom saying that he recognised him.
Theuma explains that he knew his uncle first who would bet on horses. He then got to know Yorgen Fenech and their friendship developed.
Theuma is now explaining betting on French horse races. He is explaining illegal betting saying that if won he would pay the winner while if someone loses he would keep the money for himself.
14:51 Theuma walks in while Fenech is made to stand up and moved away by the security as Theuma walks behind the chair where he was seated.
14:50 Arnaud takes the witness stand confirming that Theuma was granted a presidential pardon, and that the as long as he adheres to the conditions, Theuma will not be prosecuted.
14:47 Defence lawyers say that they cannot cross-examine Arnaud today since the testimony was suspended. The court replies that it will decide if cross-examination takes place on what Arnaud testified today.
Galea-Farrugia said that he does not agree that the cross-examination takes place today.
14:45 Magistrate Montebello asks if there is going to be a document exhibit which will show that Theuma was given presidential pardon. Galea-Farrugia says that Arnaud can give a sworn statement that Theuma will not be prosecuted subject to conditions.
14:39 Defence lawyer Gianluca Caruana Curran says that these tapes should be exhibited. Lawyer Marion Camilleri argues that it is procedurally incorrect to testify on documents and recordings which are not already exhibited in court.
The court said that Theuma will not be allowed to testify on the recordings, on request by Dr Camilleri. Reference to the recordings will not be allowed in court, in connection to a previous request by the defence.
14:32 Dr Camilleri asks why Police Inspector Arnaud is suspending his testimony. Magistrate Montebello asks Arnaud, with Arnaud informing that Melvin Theuma would be testifying today.
Galea-Farrugia says that the testimony by Arnaud was to give a background and a civilian witness who is important to the proceedings will be testifying today.
The defence lawyers objected against the suspension of Arnaud's testimony.
The court said authorised the suspension of Arnaud's testimony and turned down the request for the recordings to be exhibited.
14:24 Arnaud says he is suspending his testimony for the next sitting. Lawyer Gianluca Caruana Curran says that there will be a cross-examination on his testimony today.
Lawyer Marion Camilleri says that there was extensive reference to the recordings during Arnaud's testimony. She notes that he expressed his opinion by saying that this is the conclusion 'we had come to' or 'we understood this', as she requested that the recordings be exhibited and heard in court at this stage.
Philip Galea-Farrugia, Assistant AG, objected to the request, saying that they would be exhibited at a later stage.
14:19 Police Inspector Zahra asks Arnaud about Fenech's request for presidential pardon. Arnaud tells the court that the lawyers asked immediately for disclosure. The defence lawyers listened to the recordings before speaking to Fenech and later informing the police that they would like to request presidential pardon. They were also shown the 'screenshots'.
The allegations that have been made are still subject of investigation, Arnaud tells the court.
Arnaud explains that the police have called various people for questioning. He also refers to the warrant of prohibitory injunction was rejected contesting Arnaud's involvement in the investigation. Arnaud explains that the interrogation was made by Zahra as he took a step back.
14:16 On the basis of what Fenech told the police about the letter and the recordings and the role of Keith Schembri the police had concluded that Theuma's evidence had been corroborated and had made a written report together with the Attorney General over the presidential pardon.
On 25 November Melvin Theuma was given presidential pardon.
14:13 'We spoke to Fenech twice, before Theuma was granted presidential pardon,' Arnaud says, explaining that this was confidential as this was in attempt to gain presidential pardon for Fenech.
Arnaud says that there are some details from this informal conversation. Both defence lawyers Marion Camilleri and Gianluca Caruana Curran intervene saying that there was an agreement in place, that Arnaud would not testify on those conversations as they were informal.
Magistrate Montebello intervenes saying that she will not hear anything from those informal conversations.
14:08 Arnaud is now speaking Fenech's arrest and the subsequent search, during the search they found a handwritten letter found during the searches at Fenech.
According to Arnaud, Melvin Theuma told the Police that he started fearing that Fenech and Schembri would either kill him or hurt him. Arnaud explains that the letter and snippets of the recorded conversation were given to Fenech as a warning, in case something happened to him.
14:05 Police Inspector Keith Arnaud is still testifying, saying that Theuma told the police that once the killing of Caruana Galizia was contracted, Fenech sent Theuma to Castille to meet Schembri where he was introduced to Craus and later given a job, which Theuma told the police he did not need since he was a taxi driver.
'Why was he given a job at that time?' Magistrate Montebello asks Arnaud. The chief investigator says that until now it is not clear why he was given a phantom job in 2017 before the assassination.
14:01 Arnaud says that the least amount Theuma received from Fenech was an average of €2,000 a week which was passed to the Degiorgio's.
Kenneth Camilleri was questioned, and Camilleri told the Police that it was Theuma himself that came to him. However, this contrasts with what Theuma repeatedly told the Police, Arnaud explained.
13:53 Arnaud says in another part of the conversation Fenech and Theuma, the former told Theuma that he went to Schembri and told him what had happened.
'Kif ghidtlu kesah,' Fenech told Theuma. Testifying on the recordings, Fenech told Theuma that he asked Schembri if he did something wrong, with Schembri allegedly replying that next time he should have told him before.
Fenech said that Schembri got involved for his sake, according to what Fenech told Theuma which was recorded.
In the recordings, Caruana Galizia's laptops were also mentioned – saying that they could have been used to confuse public opinion since she wrote about many people and 'people wanted her death.'
13:46 From the recorded conversation, Fenech spoke to Theuma telling him that after speaking with Keith Schembri, Fenech had reportedly told 'Schembri next time do not promise them bail, tell them you would do your utmost.'
Kenneth Camilleri had gone to Theuma's house promising him bail.
Theuma would give money to Mario Degiorgio to give to the brothers. There are such conversations recorded.
'He couldn't sort out his affairs and he wants to sort out yours? I don't know why he told you that,' ['Ma rrangax il-kazijiet tieghu, ha jirranga tieghek, ma nafx kif gie jghidlek hekk'] Yorgen Fenech told Melvin when discussing bail for the Degiorgio's according to Arnaud.
In 2018, had attended to a meeting in Castille, between the Prime Minister, Justice Minister Owen Bonnici who's mentioned only as 'Owen', Inspector Arnaud and Silvio Valletta – Fenech was recorded passing on this information to Theuma.
Yorgen Fenech did not who this Kenneth was but had described him as 'ragel tal-affari tieghu'. It was not clear immediately who this Kenneth was, it was later confirmed that he is the Prime Minister's security not the driver.
13:35 The recordings which were passed onto the police, Arnaud explains, were conversations between Melvin Theuma. He describes Melvin Theuma's as sounding desperate and worried.
Arnaud tells the court that in one particular recording they spoke of bail for the Degiorgio brothers. It emerges from the conversation that Yorgen Fenech was not aware of the Degiorgios being given bail. Through the first part of the conversation Keith Schembri is mentioned saying that it was Kenneth Camilleri gave him the impression that the Degiorgio's would be given bail on the 22. Arnaud explains that the prosecution had a hearing on 22 May.
In the recordings, Melvin Theuma seemed worried about having told Mario Degiorgio that his brothers will be given bail. During this recorded conversation, Arnaud explains that Fenech sounded surprised telling him, 'hazin jekk qallek hekk, lanqas irranga ghal tieghu,' referring to Keith Schembri, saying that he will be speaking to him, himself.
Melvin Theuma was worried that the Degiorgio's were not given bail, since he was caught in the middle between Fenech and the Degiorgio's.
Arnaud tells the court that Theuma was insisting with Fenech that the Degiorgio's are given bail. In one conversation, Theuma told Fenech 'If need be, speak to Mr Justice Mizzi, or even the Prime Minister,' however, Fenech declined saying that he did not know Mr Justice Mizzi and did not want him involved and did not want others involved.
13:29 Arnaud explains that on 16 November, while they were at the Police Commissioner's office, Theuma signed a paper saying that he would tell them everything he knows about the case. In the meantime, the recordings were passed onto the police. Several copies of each recordings were found on the devices found inside the plastic box Theuma had with him on the day of his arrest.
'Throughout the investigation no other name surfaced except for the investigation,' Arnaud tells the court.
'Once he mentioned Keith Schembri in the recordings,' Arnaud tells the court, adding that a certain Kenneth was mentioned.
There are three particular recordings that the police have been analysing.
'There is only one recording that we know it happened in Portomaso, because Theuma had told his partner that he is going to Portomaso to record Fenech,' Arnaud says.
13:27 Police Inspector Kurt Zahra asks about Europol's involvement. Arnaud says that there was continuous updates with Europol.
'Melvin Theuma was emotional and started crying, saying that he wanted to speak about the murder of Daphne Caruana Galizia,' Arnaud tells the court.
'It was only after he spoke to his lawyers, Kathleen Grima and Matthew Brincat (who are also present in the courtroom), that the lawyers informed us that their client wanted presidential pardon in exchange of the information,' Arnaud explains.
13:17 Police Inspector Kurt Zahra asks about how the bail money was passed. Arnaud explains that during the investigation, it emerged that Melvin Theuma took a particular interest in the Degiorgio brothers, visiting Mario Degiorgio at his home. Arnaud continues to explain that the police started suspecting that they started suspecting that the recordings were related to Caruana Galizia's assassination.
During the investigation, they realised that Theuma was involved in illegal gambling and possibly money laundering. The Economic Crimes Unit was alerted about the case, and a parallel investigation was opened. After some time they realised they had a case for money laundering.
The ECU and Europol had identified a deadline, towards the end of November when the operation would take place. Arnaud was not involved in the operation. Theuma was arrested on 14 November along with some relatives. Theuma had a plastic box at the time of the arrest.
'Don't touch the box, I want to open this before the Police Commissioner,' Melvin Theuma reportedly told the police. The search took place, the plastic box was not touched.
The box was opened later on the evening when Theuma was hauled inside the police headquarters. In this box there were 3 additional mobile phones, a voice recorder, three packets of papers, and photos of mobile phone. The photos showed a phone switched on and showed a contact number 'Yorgen', Arnaud explains.
Another photo was that of the photo of Melvin Theuma with former OPM chief of staff Keith Schembri.
13:14 Arnaud tells the court that Melvin Theuma's friends had changed his attitude and looked worried. At one point, the police realised that Theuma had an argument with a person, at that time they did not know it was Yorgen Fenech.
Surveillance on Theuma had increased. They realised that Theuma had recorded the argument however, at that time they did not know the content of the recordings.
Melvin Theuma would refer frequently to the Degiorgio brothers rather than Muscat.
'We continued to analyse this data along with Europol,' Arnaud says.
13:07 From police surveillance, the police observed that Melvin Theuma would take food to Mario Degiorgio who would then take it to prison. Theuma had a white SUV Jaguar.
At this point, Melvin Theuma's name was not known, it was afterwards that they discovered his name, Arnaud explains.
Arnaud explains that when Muscat started speaking to the police and Mario Degiorgio had informed his brother about this. George Degiorgio asked whether he got this information was someone whose name begins with 'M'.
When the money laundering case started against the brothers Degiorgio and Anca Pop, it was Melvin Theuma who funded the bail bond of €15,000, Arnaud told the court. Theuma was abroad at the time however, he had called his relatives to deliver the money.
13:03 The Police monitored the men's calls from prison. While Muscat's calls were limited to family, the police observed that George Degiorgio would call his brother Mario Degiorgio and frequently asking 'iltqajt ma' dak?'
'Ghid lil Alfred biex ghada jcempillu fl-9.45am ghax hemm xi hadd li jrid ikellmu' – Mario Degiorgio told Alfred Degiorgio. Arnaud tells the court that the next day Alfred Degiorgio called Mario Degiorgio.
From the recordings, the police realised that the call had taken place outside and the phone was passed to a certain Melvin Theuma. At this point, Arnaud says, they did not know who Melvin is.
Arnaud says that during this call, Melvin Theuma said 'Hadt pjacir nisma lehnek, kurrag, niltaqghu,' to Alfred Degiorgio.
The investigators then realised that, Mario Degiorgio would be the go-in-between between Theuma and Degiorgio's.
13:00 Alfred Degiorgio was using a rental car which was found near the Targa battery. They found that a garage in Hal Farrug from which Degiorgio was renting his car.
None of the three men suspected of detonating the bomb left a police statement. The police kept following the movements of the three men inside prison.
The Europol supported the investigation and also kept assisting the Police.
A taskforce was set up to investigate further the murder. The police suspected that the killing was contracted.
12:54 Arnaud continues to explain how their investigation led to the arrest of the Degiorgio brothers along with Muscat and others who were at that time of interest on December 4.
Arnaud was present at the Marsa potato shed were the raid took place. The searches at the potato shed took place in the presence of the three men suspected of detonating the bomb.
Alfred Degiorgio's ghost phone was found on the ground, a few meters away from where he was arrested. The ghost phone used by Vincent Muscat was retrieved from the sea by the divers. Another ghost phone was found of which they suspect was used by George Degiorgio ending in '24', its movement mirrored that of George Degiorgio's personal phone and the device inside the bomb.
The one ending in '24' gave another location update near the Marsa potato shed after the explosion took place. The other ghost phones were deactivated.
Alfred Degiorgio's DNA was found on the cigarette butt retrieved in Bidnija. Brothers Degiorgio had accepted to give a DNA sample, while Muscat refused.
12:49 The chief investigator is explaining that the movement of George Degiorgio's phone mirrored those of one of the ghost phone, as did Alfred Degiorgio's. At the end of November, they identified the third person, Vincent Muscat, because the ghost phone was localised in Siggiewi where Muscat lives. Muscat's phone location mirrored the third ghost phone location and once they were activated also together.
Arnaud confirms that the message sent to the device inside the car was at 2:58pm.
He is now explaining that the cell tower at Bidnija was under maintenance at their time.
'As police we knew that the Degiorgio's each had a boat, and they had recently bought a new one, Maya,' Arnaud tells the court – as he explaining how they mapped out the locations of the ghost phones and what happened on October 16.
12:44 Arnaud tells the court that in early 2017, there was activity between two mobile numbers. In their analysis they found out that the message was sent out at the same time as the bomb was let off. During their investigation, three burner phones were identified which were activated sometime around August 2017 and were deactivated at the time of the explosion.
The FBI had found out that one of these mobile phones had moved with the sim card which was used in the explosion. The FBI also analysed the movements of the mobile phones on October 16.
During the investigation, they found out that two mobile phones were frequently in Bidnija. While the device used in the bomb was first activated in Bidnija around 12:40am on 16 October and was stationary up to some time before 3pm.
12:37 Police Inspector Keith Arnaud takes the witness stand. Arnaud is currently testifying on the day Daphne Caruana Galizia was assassinated. He told the court that he was informed of an explosion on 16 October 2017. He arrived on site a few moments later, along with Police Inspector Kurt Zahra. Zahra had taken care of the field investigation while Arnaud was in charge of liaising with the foreign experts including FBI and Europol.
Arnaud tells the court that they immediately tried to figure out how the explosion took place. Explaining that the bomb was placed under the driver's seat. He is explaining that they investigated cellular data of the mobiles used in the area at that time.
During the investigation they discovered that a message was sent to the sim card inside the device which then detonated the bomb.
From their investigations, people told the Police that they had seen suspicious individuals hanging around in the area. Arnaud tells the court on how they found the a cigarette butt under a tree near a rock and it was the only cigarette butt found in the area which was collected as evidence.
12:35 Magistrate Rachel Montebello enters the courtroom. Widower Peter Caruana Galizia has asked the court to become parties to the case. The court accepted the request.
12:30 Members of the media and family of slain journalist Daphne Caruana Galizia have just been allowed into Hall 9. A few minutes earlier, Yorgen Fenech was escorted into the courtroom under heavy security. He is currently seated on a plastic chair in the middle of the courtroom with four officials from the correctional services standing around him, including the prison director.
Prosecuting officers and lawyers are seated at their benches.
The gathering of evidence against Dubai-based 17 Black owner Yorgen Fenech who was charged with complicity in the murder of journalist Daphne Caruana Galizia will start on Wednesday afternoon before a court presided over Magistrate Rachel Montebello.
The first sitting was put off after the lawyers appearing as parte civile as well as the lawyers of the accused asked Magistrate Nadine Lia who was drawn by lot, to abstain from hearing the case. Subsequently, the case was assigned to Magistrate Montebello.
Yorgen Fenech was arraigned in court on November 30.
Lawyers Marion Camilleri and Gianluca Caruana Curran are appearing for the accused.
Police Inspectors Keith Arnaud and Kurt Zahra led the the prosecution.
Lawyers Jason Azzopardi and Therese Comodini Cachia are appearing as parte civile.