Tista' taqra bil- Malti.
"There must never be a moment when we decide who lives or dies," Auxiliary Bishop Joseph Galea-Curmi told the congregation on Sunday while he delivered his homily during Mass celebrating Day for Life.
His main message on Sunday was based on the principle that the strength of any society is measured by the progress of its weakest members. The bishop presided over a mass held at St John's Co-Cathedral in Valletta.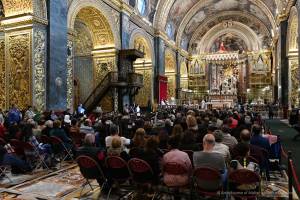 Auxiliary Bishop Galea-Curmi greeted those taking part in the celebration which commemorated the Feast of the Presentation of the Lord. He told those gathered that today's celebration saw them coming together because they are for something and not against someone or something.
Addressing those gathered, the Auxiliary Bishop said "we stand for life we believe that we must protect and cherish life from the very beginning of conception until its natural end".
"When human life already exists, there must never be a moment when we decide who lives or dies," he said.
The Auxiliary Bishop explained that one cannot separate civil liberties from the right to life. "The more we embrace a consistent ethic in favour of life, the more we are able to build a society that respects the human person, whoever he or she may be," Mgr Galea-Curmi said.
The vulnerable
Auxiliary Bishop Galea-Curmi said that they stand for all those who are weak and vulnerable.
"We believe that the protection of the life of those who are vulnerable is the measure by which society can be considered to be humane. What is more vulnerable than the life of a human being who, at the very beginning of his or her existence, asks to be welcomed and not cast aside?" he asked.
Apart from mentioning the sick, Mgr Galea-Curmi also mentioned those seeking a better life in Europe and who take the perilous journey to cross the Mediterranean sea.
"We must work concretely for the protection of life of these people, to ensure that they will not become victims of indifference and of a throwaway culture, as Pope Francis decries frequently," he stated.
The future generations
Mgr Galea-Curmi spoke about the protection and conservation of the natural environment to be enjoyed by future generations. He explained that they stand for future generations and that was why they were working for future generations to be able to breathe in clean air, and enjoy the natural of the country without having to resort to watching videos of what once was.
"We will work for future generations to cherish the value of life and not to be duped into thinking that drugs are a means of entertainment, without considering the consequences that these will have on their lives," he sad.
Need for concrete actions of solidarity
Auxiliary Bishop Galea-Curmi told the congregation that it was not enough to speak out in favour of life. He explained that words required concrete actions of solidarity. A newly opened shelter Dar Tgħanniqa ta' Omm by Life Network Foundation aims to help expecting mothers during their pregnancy and up to one year after a child is born. Mgr Galea-Curmi praised the initiative saying that the mothers were receiving the support they needed while infants' lives were being saved through such acts of solidarity.
"The Day for Life shows us that the strength of any society is measured by the attention we give to its weakest members and by the progress of those who are most vulnerable. Let us continue to strive in order to have a society where life is treasured with love," he said.