Tista' taqra bil- Malti.
Partit Nazzjonalista reacted to the mini-budget announced on Wednesday evening, saying that it fell short to address the crisis being faced by the business communities as well as the employees themselves which in turn affects many families.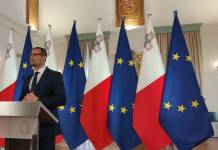 In a press conference addressed by Opposition Leader Adrian Delia, MPs Mario De Marco and Claudio Grech, Partit Nazzjonalista highlighted that the government failed to assure employees that they will retain their jobs following the coronavirus outbreak and instead sent out signals that it was giving up.
Speaking on Thursday morning, PN leader said that it was not true that the government will be forking out €1.8 billion in assistance. Delia highlighted that €700 million in tax deferrals will not help companies remain afloat retaining their employees. He maintained that at present businesses were not making any revenue, and once they start returning to normal, they would have to pay tax which had been postponed.
"At this point, businesses are not thinking about making any revenue, it is about survival. Taxes which will be due later will probably be on companies that no longer exist," Delia stated.
Speaking about the 20% government guarantee on loans, Delia asked how are businesses expected to generate the 80%. He compared this measure to the approach adopted previously with Electrogas when a €360 million state guarantee was given the power generating project.
Reacting to the budget announced for the health care sector, Delia said that this was not enough. He urged the government to increase the expenditure noting that Steward Health Care will receive double of what the whole health sector will get in this unprecedented crisis.
He highlighted how other jurisdictions have already committed themselves to spending how much was needed.
Delia echoed statements made by stakeholders on the subject, saying that the measures announced on Wednesday will not safeguard jobs.
"The government can do more. Redundancies mean that the government's recurrent expenditure will automatically increase. The government can use the wealth we've generated to ensure that no jobs are lost," Delia said.
'We will not accept employees bearing the brunt' – Claudio Grech
MP Claudio Grech said that Partit Nazzjonalista will not accept a situation where employees bear the brunt and are victims of mass redundancies. He said that the wealth generated can be used to help and assist employees and their families. Reacting to the measures he remarked that upon hearing the announcement, they realised while the government failed to hold a discussion in parliament on the announced measures since they fell short.
The government failed to ensure that no jobs will be lost and instead signaled that there will be redundancies.
Do or die – Mario De Marco
MP Mario De Marco highlighted that extraordinary situations required extraordinary measures. He described the current crisis sparked by Covid-19 as a do or die situation. Referring to measures adopted in other countries such as France and Denmark, De Marco highlighted that the government failed to protect and safeguard employees.
"Other governments have ensured that employees won't lose jobs," De Marco noted.
Earlier on Thursday morning, the Malta Employers' Association and the Malta Hotels and Restaurants Association have reacted to the financial package announced by the government saying that the measures fall short to properly address the economic crisis sparked by the novel coronavirus.
If you want to be the first to receive the latest news on the coronavirus in Malta, download the Newsbook APP here.