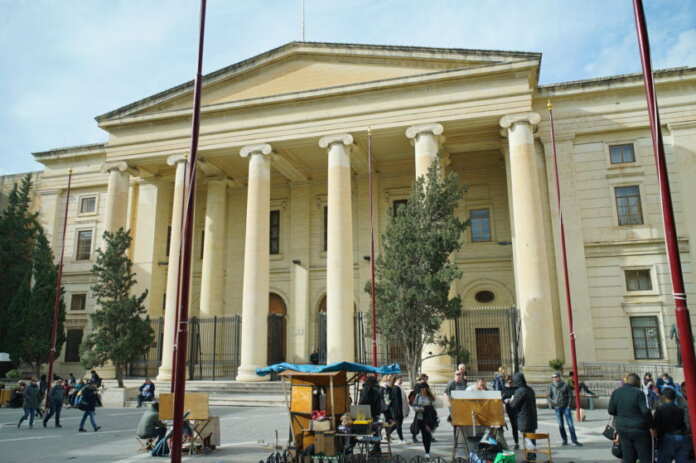 Tista' taqra bil- Malti.
The arraignment of migrants over recent incidents was a manifestation of institutionalised racism, human rights organisations said in a joint statement on Thursday. Aditus foundation, Jesuit Refugee Service (Malta) and Integra Foundation called on the Police to explain why the group of 22 individuals was brought to court in such an inhumane manner. The NGOs also called for the codification and implementation of procedures when escorting accused persons to Court without discriminating on the basis of the person's country of origin.
A group of migrants including minors were hauled into court on Wednesday. The migrants were filmed getting off the police bus and escorted to court. The men were tied together in pairs with cable ties.
Aditus foundation, Jesuit Refugee Service (Malta) and Integra Foundation noted that the group was paraded on one of the busiest pedestrian streets and seemed to be wearing the same clothes they had on the day of their arrest. They also referred to reports which said that some of the migrants had no shoes on. A large number of police officers were seen wearing white sanitary gloves.
The NGOs condemned the incident and decried the humane treatment suffered by the individuals arraigned.
"This treatment also amounts to institutionalised racism since this way of parading accused persons seems to be reserved to non-Maltese nationals," the statement reads.
The NGOs remarked that it remained unclear why men and children were paraded in public in such a manner.
Arrested individuals are usually brought to court using the back entrance on Strait Street. The NGOs reminded that minors should be awarded specific protections throughout criminal proceedings. There are restrictions at law on the publishing of the names and images of minors.
"We are therefore led to believe that these are not isolated episodes but, rather, intentional conduct of members of the Police Force or the result of a policy decision," the NGOs stated.
All persons are to be presumed innocent until proven guilty. This is a fundamental human right right which is enshrined in Malta's Constitution and in international and European human rights law of which Malta is signatory.
"The manner in which they were brought to court portrays them as guilty and dangerous," the NGOs added saying that this was a clear breach of this fundamental principle.
The NGOs called on the Police and officials from the correctional facilities to ensure that children benefit from the guarantees afforded to them in criminal proceedings.
Aditus Foundation, Integra Foundation and JRS reminded that the court had declared illegal the on-going detention of hundreds of individuals at Safi Detention Centre and the Marsa Initial Reception Centre.
"We question whether this is the best Malta is truly able to offer people fleeing war, persecution and other human rights abuses in their home countries: illegal detention and a parade as criminals along Republic Street," the NGOs said.