The summer edition of the Eurobarometer shows that 49% of the Maltese were not satisfied with the measures taken by government to fight Coronavirus. On the other hand, 46% felt that these measures were satisfactory. These figures were taken in the Eurobarometer Survey taken by the European Union between July and August 2020.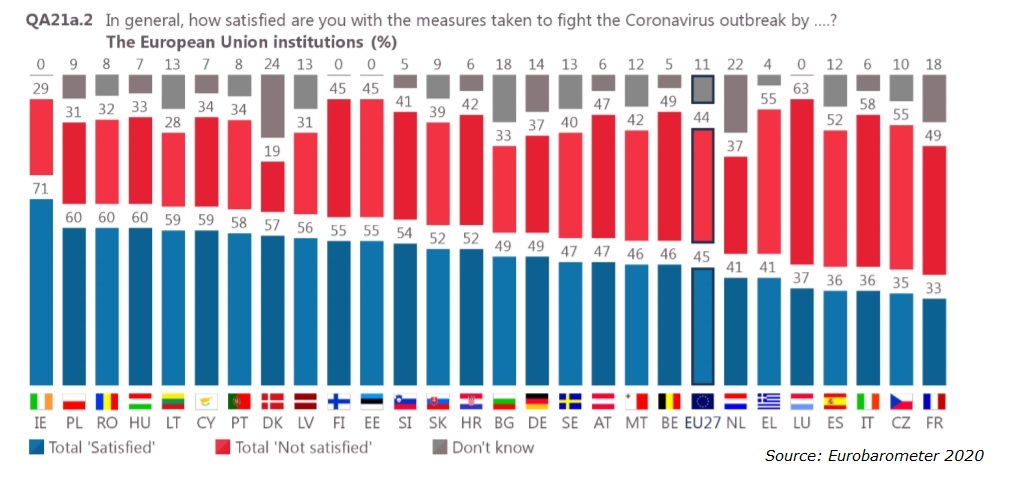 Fifty-two percent of the Maltese believe that the economic situation in Malta will recover between 2022-2023. Only 2% think it will recover before the end of this year and 1% feel it will never recover. Compared to the results obtained on average in the EU, Malta seems to respond somewhat more optimistically since 71% of Europeans believe that the economic situation will recover between 2022-2023.
A substantial number of respondents felt that the partial lockdown experienced in Malta was quite difficult to handle. Thirty-eight per cent felt it was a fairly difficult experience with 9% of those finding it even endangered their mental health. Compared to the rest of Europe, the Maltese seem to have found partial lockdown particularly difficult since EU average on the same parameters stood at 32%.
Migration worries
Migration remains a major concern for the Maltese with 58% citing it as the most important concern. They reinforced this response when 61% said that this was the most important concern the EU faces now. This is more than twice as large as the next major concern: health which scored 25%. The Economic situation is a concern for the average European much more than it is for the Maltese given that only 18% of Maltese respondents claimed this was a concern compared to the EU average of 33%.
On a level of trust, government in Malta enjoys 58% of trust and parliament enjoys 45% trust rating.
We're doing well – government statement
Government reacted in a statement saying that the results of the Eurobarometer show the good levels of optimism and trust in the country in spite of the pandemic. It noted with satisfaction the 58% trust rating which government enjoys comparing it to the trust rating obtained by the media which, government said, ranked at 21%.
With regards to the pandemic, the statement said that 92% of respondents said tat they were happy with the measures taken by government, a 30% edge over the EU average. Government said that in spite of the pandemic 60% of respondents said that the economy was faring well and that 73% of families said that their financial situation was good and another 53% feel that the jobs sector is thriving.