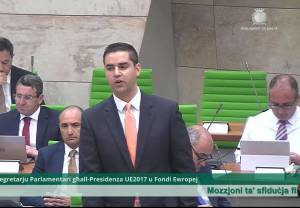 Minister for Transport defended the decision to appoint William Lewis as a Government consultant on Government projects on a direct order. Lewis is the organizational secretary of the Labour Party.
While he was answering a Parliamentary Question by Labour Deputy Byron Camilleri on the large queues of cars waiting for the Gozo ferry, Borg said it was the incompetence of the previous Nationalist government which resulted in these kinds of queues.
"And now with a level of arrogance, the PN is demanding to re-appoint the same architects in any infrastructure projects", he said.
He said the Opposition wants to deprive an architect who has been working in this field, the right to give the constitution to be part of a political party.
"The opposition talks about the rule of law but in truth it wants the rule of law in its own hands", he said.