Here are some hints which should help those of you who are looking to purchase a new kitchen or thinking of upgrading theirs.
Work with standard sizes
When considering the overall length of your kitchen cupboards, keep in mind the position of any doors and windows and whatever appliances you may want to integrate. Any left-over area can be customised to your taste.
Your kitchen cupboard worktop should be 600 mm deep irrespective of how big the bottom cupboards are. With the top (or hanging) cupboard, you have a choice of 300 mm or 330 mm. You cannot have the top cupboard any deeper because otherwise you will hit your head or will not be able to see what is at the back of your worktop.
Aim for symmetry when positioning the top and bottom cupboards. The doors need to have equal widths and they ensure they are neatly lined up. Otherwise, the end result will be shoddy and unsightly.
2. Intelligent positioning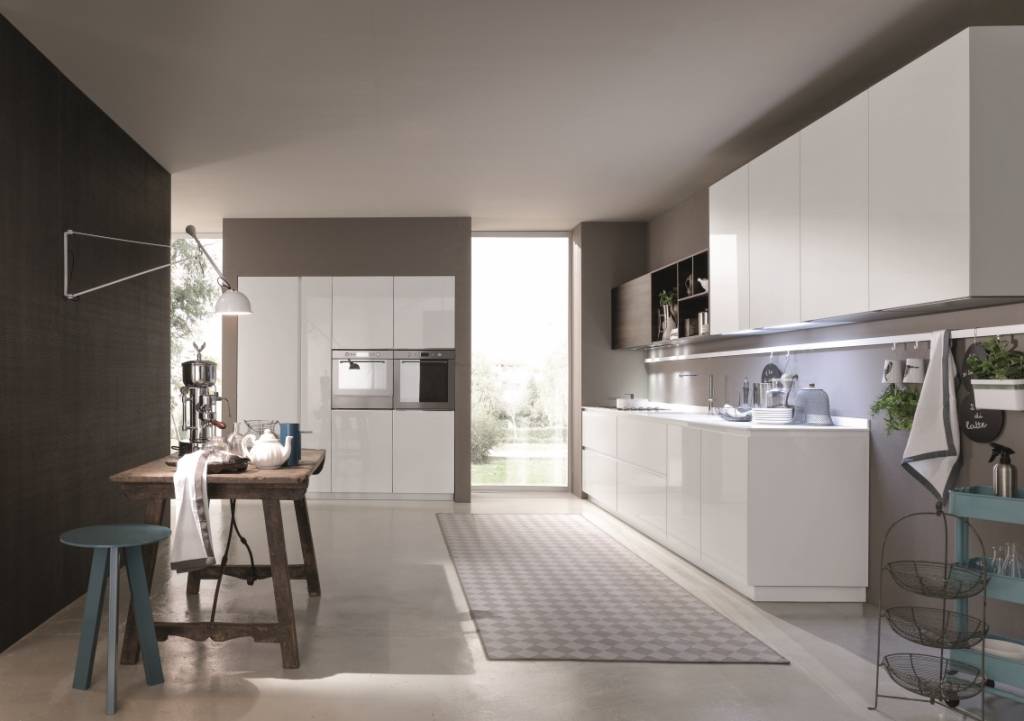 Place eye-level ovens and built in fridge-freezers at the beginning or end of your design to gain more uninterrupted workspace.
The space between the top and bottom cupboards should be on average 500 mm. Any lower and you would have to bend down to see the back of the work surface; any higher and it would be difficult for the average person to reach the top shelf of the top cupboard.
The bottom cupboards should be on plastic legs, preferably with a removable plinth. In case of a flood, if the unit rests on melamine chipboard, this would absorb the water and be ruined.
3. Work out your 'work triangle'
Keep your work triangle to a minimum. This is the positioning of the fridge, sink and cooker, which should be not less than 3.6 m and not more than 6.6 m apart. If your total triangle length is greater, you will have a needless kitchen mileage.
Pay attention to the design of corners. Doors should not open into each other. You should be able to open the doors of appliances to their full extent without banging them into the wall. Should you need to fill up open space either between an appliance and the wall or at the end of a unit, you can work in open shelving, towel racks or wine racks.
In 90 per cent of cases the sink would be positioned beneath the kitchen window. There is a wide variety of sinks to choose from with single or double drain boards, single or double basins and other convenience units built in.
It is always a good idea to position the dishwasher beneath one of the drain boards to lose less working top space when the dishwasher door is open.
4. Plan perfect
If you are still at the drawing board stage, use graph paper to enable you visualise the layout better. Your only limiting factors are doors, windows and the general shape of the room (but also keep in mind the position of the electric sockets, water pipes/drains and the gas supply).
It is important to create something that will stand out. Features like an island, breakfast bar, dresser or show case to display a china collection or the use of decorative baskets for your vegetables add to the visual element.
Maximise your work surface by making sure there are no interruptions caused by tall cupboards or a fridge. Allow space to unpack your shopping both in terms of your larder, dry store and freezer.
5. Organisation is key
Do everything you can to keep things organised, including pull-out baskets and trays, deep drawers and partitions. Strive for balance and symmetry as much as possible.
Position your utensils where you will need them most; your pots and pans should be close to the hob; your china and glass cupboard next to the dishwasher/sink drain board.
Try to avoid positioning your cooker next to your fridge or freezer. Ideally, they will be in an L-shape so that the heat they generate will be on different walls and will not affect each other's efficiency.
6. Make the kitchen yours
Finally, look for something that is in keeping with your character and lifestyle. The kitchen is a central focus in any household, so you may as well devote care and attention even at the design stage to ensure the reality fully fits your expectations.
"Kitchens have grown in size and importance, architecturally and conceptually, to become a major family meeting place not just for eating but for interaction and entertainment," says Chris Vassallo Cesareo, Managing Director of Domestica Ltd.
Domestica Ltd can help you make your kitchen as perfect as it can be. The showroom in Valley Road, Msida is now open and online booking is still available. You may contact them via their website, phone/Whatsapp: 77447610, email: info@domestica.com.mt, Live Video Chat and Facebook Messenger.