Tista' taqra bil- Malti.
Former Maltese President Marie Louise Coleiro Preca has joined many others in criticizing Infrastructure Malta's project to build a flyover in the Imrieħel Bypass.
It is believed that the project will be taking around 20 tumoli of arable land, while also replacing the pedestrian footbridge completed two years ago.
In an extensive Facebook post, Qormi-born and bred President Emeritus Coleiro Preca expressed that the idea to consider such a project is "unbelievable", even more so since the public was only made aware through media reports. She reminded Infrastructure Malta that Qormi is already surrounded by at least seven industrial areas.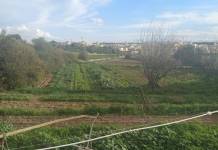 Using several rhetorical questions, the President Emeritus asked whether the infrastructure agency took into consideration the additional air and noise pollution generated, the continuous and extensive loss of agricultural land, and the loss of national heritage.
She also remarked that there is no longer any 'green city' left between Qormi and the surrounding villages, including nearby valleys which have been developed into residential roads. Coleiro Preca also mentioned the issue of flooding, and that lives have been lost as a result of this unplanned development in Qormi.
The President Emeritus mentioned that Infrastructure Malta should be transparent; inform the public as clearly as possible, state and publish what impact studies it has carried out, consult with the Local Council, and convene a public meeting for residents.
"Qormi's residents are not against progress, but progress must serve the people," she concluded.