Tista' taqra bil- Malti.
As coronavirus cases continue to soar worldwide, governments have been forced to introduce (or re-introduce) restrictive measures to contain the spread of infections.
France
France has now put at least 46 million of its residents under curfew in 54 of its 94 departments and one overseas territory.
Around 38 departments were added to the curfew, which ranges from 9:00 pm to 6:00 am, after nine metropolitan areas were restricted last week.
Italy
Italy has once again seen a sharp rise in cases, however, it is not planning on implementing a lockdown soon. Mayors will get powers to close public areas after 21:00 and the opening times of restaurants and the size of groups allowed will tighten.
PM Giuseppe Conte said the measures were needed "to avoid a new lockdown". The moves came as Italy recorded its highest daily infection rate for the second day in a row.
Ireland
Ireland has become the first European country to reimpose a nationwide lockdown following a surge in cases, with its government urging the general public to restrict movement and activity.
On Thursday morning, Ireland entered a six-week lockdown, together with several other new restrictions. Schools, however, remain open.
Spain
More than 7.2 million people in Spain live in municipalities or regions that are currently, or soon to be, subject to a perimetral lockdown, meaning residents cannot leave or enter the area unless it is for essential reasons, such as for work, to access care services or in the case of an emergency.
This restriction is already in place in 50 municipalities of greatly different sizes, including capital city Madrid.
Slovakia
Also on Thursday, Slovak authorities announced that a partial nationwide lockdown will be implemented from October 24th, until at least November 1st. Under the lockdown, most schools will be closed and people will be required to stay home, with the exception of going to work and essential purposes such as shopping.
Belgium
Belgium has inched closer to a second national lockdown with new "harsh measures" as all non-urgent surgeries were suspended for a month from Monday to give hospitals breathing space in the face of spiralling coronavirus infection rates.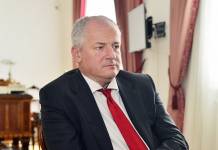 Portugal
Portugal's government announced on Thursday that three municipalities in the northern region will be put under a partial lockdown to contain a surge in coronavirus cases there. Circulation between councils (municipalities) will be against the law between 30 October and 3 November.
Greece
Greek Prime Minister Kyriakos Mitsotakis announced fresh measures aimed at curbing a dramatic increase in coronavirus infections, including a nighttime curfew.
Starting from Saturday, a curfew will be imposed from 12:30 a.m. until 5 a.m. in areas that are classed as high risk, which includes Athens and the wider region, home to almost half of Greece's population. The use of face masks will be mandatory outdoors and in public indoor areas.