A new helpline for those who are lonely was launched on Friday. The helpline 1772 is aimed for those individuals who are feeling lonely, isolated or who feel the need to speak to someone.
The newly launched helpline which will be operational 24 hours a day, is manned by a number of professionals who will be assisting those who are feeling lonelier than usual during these times.
Since the first case of coronavirus was registered in Malta, a total of 139 cases have been confirmed. On Friday, Superintendent of Public Health Professor Charmaine Gauci announced another five cases of which only one was travel related. Two patients continue to receive treatment at the Intensive Therapy Unit at Mater Dei Hospital. However the 61-year-old man who is in intensive care is expected to be released from hospital.
Two individuals caught breaking quarantine rules
Two individuals were caught breaching mandatory quarantine over the past 24 hours. A total of 500 inspections were carried out.
So far, 35 fines were issued during more than 4,700 inspections.
Food and drinking establishments have continued observing the regulations and remained closed. More than 1,080 such inspections were carried out in Malta and Gozo in the last 24 hours.
From Monday 30 March Servizz.gov's 8 centres, the Department of Social Security's 19 district centres in Malta and Gozo, and the Tax Customer Care Office in Gozo will be closed to the public as from next Monday as a precaution against Covid-19.
New measure as from tomorrow
The government has published a fact sheet on how the new measure will come into force as from tomorrow.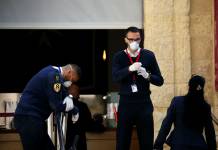 The measure aims at reducing the risk for those who are most vulnerable within our society. From Saturday 28 March persons above 65 years of age as well as persons with chronic diseases are to stay at their homes. Exemptions apply for instances when it is necessary for these persons to go out for medical appointments, to buy food and medicines, and to attend to personal needs which are absolutely necessary.
During the time in which these persons are outdoors for the abovementioned reasons, these vulnerable persons are to ensure that they do not linger outdoors for more than is necessary and to obey all social distancing directives. Vulnerable persons who work in the health sector and those in positions of leadership in essential sectors are completely exempted from this measure. Persons who live in the same households as vulnerable persons are only permitted to go to work, do the necessary shopping, attend medical appointments, and exercise their children visitation rights in accordance with the orders of the competent court.
Government Helplines:
111 – For those who feel symptoms of COVID-19 or who wish further information
22042200 – For Maltese residents who were caught in one of the high-risk countries and wish to return to Malta
21411411 – For those in mandatory quarantine who require provisions of food and medicine
25981000 – For those who have questions about the educational sector and the impact of the coronavirus
21692447 – For hotels and tourists with questions about announced measures
25903030 – Helpline for lonely elderly in need of medicines, meals, vegetables and fruit
If you want to be the first to receive the latest news on the coronavirus in Malta, download the Newsbook APP here.