The Queen supports the "period of transition" agreed upon by the Duke and Duchess of Sussex, during which they will be spending time in Canada and the UK.
In a statement published by Buckingham Palace, the Queen claimed that together with the rest of her family she backs Harry and Meghan's decision to venture into a "new life as a young family." However, she qualifies this claim, stating that she "would have preferred" them to remain full-time working royals. She added that she expects final decisions to be made in the next couple of days.
The Queen has met Prince Harry today,  after Prince Harry had announced, also on behalf of his wife, that they would like to "step back" from their roles as a royal family. Together with his wife, Harry made it clear that they want to be financially independent and that they intend to divide their time between the UK and North America.
The statement also described the Queen's discussion with Harry (in the presence of Prince Charles and Prince William) as "very constructive".
Prince Harry and his brother Prince William today issued a joint statement denying the media's allegation that their relationship was maimed due to William's bullying.
The historian Robert Lacey told BBC Radio 4 that the Queen's statement was unusually personal. The historian remarkably notes that the phrases "my family" and "my grandson" were often used by the Queen, who even went to the extent of referring to Harry and Meghan by name rather than by their formal titles – the Duke and Duchess of Sussex. According to Lacey this is a direct reflection of the "concern she feels".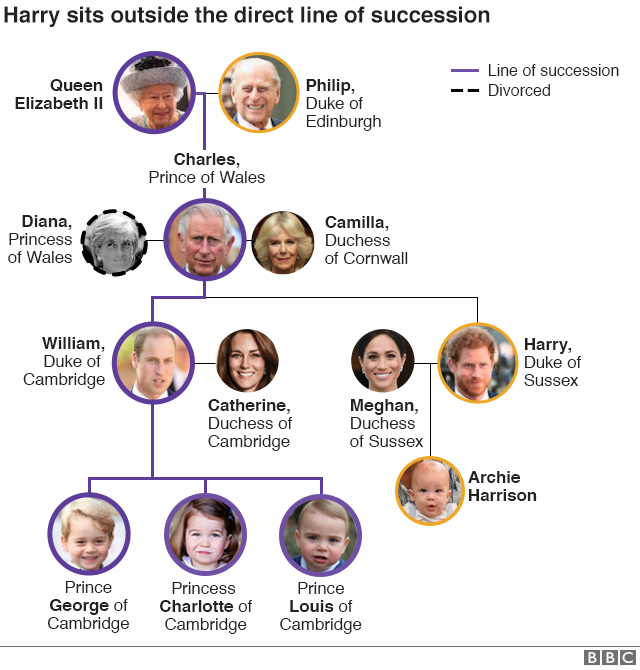 The royal family's family tree – BBC