Tista' taqra bil- Malti.
Grech expected that his actions remained secret said Partit Laburista. In a reaction to the earlier statement made by PN Leader Bernard Grech.
Bernard Grech in a Facebook post, challenged Prime Minister Robert Abela to publish his tax and VAT returns. He also questioned if Abela has ever had communications with the Tax Commissioner on his personal taxes.
"His comments, a few hours ago, on taxes only served to remind everyone that for many years he was a serial tax evader, that never paid his taxes" said PL.

Prime Minister Robert Abela yesterday confirmed that he had passed on information about the then-candidate for the PN leadership race Bernard Grech.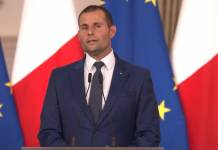 In his statement, the leader of Oppositions asks why Robert Abela did not act the same with Rosianne Cutajar on the claims of gaining commissions from sales of property.
According to the reports the Parliamentary Secretary allegedly was paid €46,500 as brokerage fees on brokering property in Mdina. The property was to be purchased by Yorgen Fenech. He had already signed a promise of sale. The businessman had already paid a deposit of €300,000 for the deal.

According to reports, the payment was made in cash and was not declared in her Parliamentary declaration of accounts.
"These are individuals in government that believe that they can do whatever they like and carry business and build close relationships with persons implicated in murders as if nothing is wrong," said Dr Grech about the revelations.

Prime Minister Abela said he will wait for the Commissioner of Standards investigation to be finalized before deciding on Cutajar.