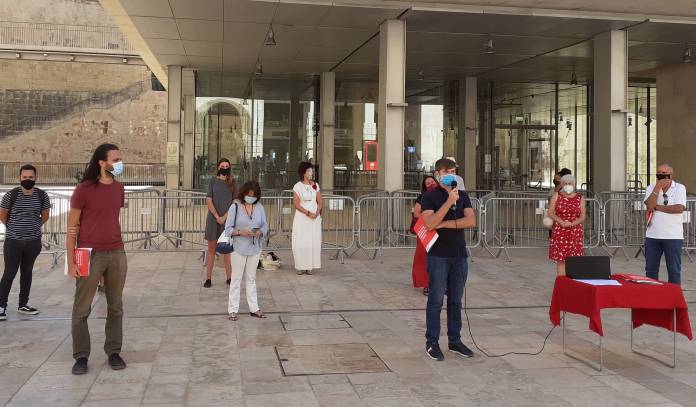 Moviment Graffitti is proposing a wide-ranging reform of the planning and construction sector, in which they seek to defend the interest of the general public over business interests.
The document was drafted in the wake of the protest it had held on 7 September, 2019, and in the wake of a spate of construction-related accidents including the death of Miriam Pace in her own home.
Its 134 proposals are spread over six main categories: planning policies, the authorities responsible for planning and the environment, large-scale projects, regulating the construction industry, roads and transportation and respect for the country and its ecosystem.
The NGO calls for new planning policies with a long-term view, and which close various loopholes which have allowed controversial developments to forge ahead. It also calls for greater protection of rural areas, Urban Conservation Areas and scheduled structures.
But Graffitti also urges a radical overhaul of the way the members of the Planning Authority board and of its commissions are chosen, suggesting parliamentary grillings and votes. Additionally, it believes that members should be held personally responsible for their conduct.
Its proposals on large-scale developments include giving local councils a greater say, allowing them to hold a referendum among their residents before the projects can go ahead. It also suggested that the competent authorities should properly investigate the financial background of the developers behind such projects.
The NGO argued that its chapter on the regulation industry included some of its most salient proposal, including the provision of support to residents stricken by construction accidents through a fund supported through mandatory fees from developers until legal responsibility is determined. Graffitti also believe that the number of concurrent permits in a set area should be limited, and called for the introduction of a penalty points system which could see contractors or developers publicly blacklisted.
When it comes to roads and transportation, Graffitti called for an efficient and free public transport system and incentives for bicycle use among other measures to reduce traffic.
It also called for an immediate halt to the transfer of public land to private interests in favour of the creation of more public spaces, and to stop considering land reclamation as a means to dispose of more construction waste
The NGO highlighted that the document was the fruit of a year of consultation with key experts and NGOs: 23 groups have given their endorsement.
It said that it intends to present the proposals to the Prime Minister, the Environment Minister and the Transport Minister, adding that their reaction to the proposals would be interpreted as a sign of how willing they are to improve the situation.