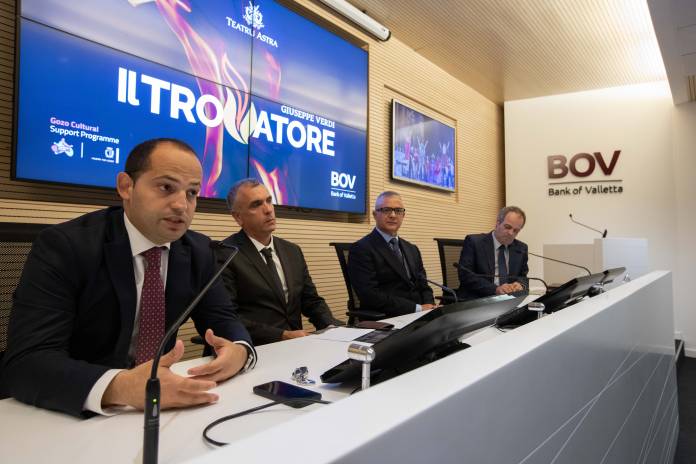 Teatru Astra and Bank of Valletta officially launched the 18th edition of Festival Mediterranea, Gozo's main autumn festival, which on an annual basis features a double representation of an opera and an array of other events spanning from music and vocal recitals to art exhibitions, lectures and a symphonic band concert by the Victoria's La Stella Band.
Spectacular presentation of Giuseppe Verdi's Il Trovatore
The highlight of this year's festival is undoubtedly the spectacular presentation of Giuseppe Verdi's Il Trovatore, with a double representation scheduled for the 24th and 26th October 2019.
The star-studded cast of this year's production includes one of the current top Verdian tenors: Valeriy Georgiev, who will star in the title role of the troubadour Manrico who performed extensively throughout Europe, including Germany, Italy and Belgium, among others. Soprano Joanna Parisi, who has garnered exciting reviews worldwide for her Verdi roles, will feature as his beloved Leonora.
A new name for Teatru Astra is Plamen Dimitrov singing the evil Count di Luna, who will be joined by Sania Anastasia, the mysterious Azucena, a heavy-weight mezzo-soprano, also of international caliber who is remembered for her iconic interpretations of Amneris in Aida (2016) at Teatru Astra. Other roles are assigned to Carlo Colombara who will be making a most welcome come-back as Ferrando. Local artistes include upcoming talented soprano Marvic Baldacchino, who will be making her debut at Teatru Astra as Ines, while Noel Galea, a household name in local operatic productions, is being entrusted with the part of Vecchio Zingaro.
Teatru Astra's newly appointed resident opera-conductor John Galea will be on the podium, conducting the Malta Philharmonic Orchestra and the Teatru Astra Opera Chorus in what promises to be a spectacular production, synonymous with the distinguished refinement of past offerings. International-fame director Enrico Stinchelli, who has wooed opera patrons at the Astra since 2001, is being entrusted once again with the artistic direction of the opera.
An investment in Gozo and its community
Speaking during the launch, Charles Azzopardi, Executive PR and Marketing at Bank of Valletta said, 'We are very proud of our long-term partnership with Festival Mediterranea, a series of cultural and exciting events of the highest quality. We deem this as a direct investment into the area of Arts and Culture providing excellent opportunities for talented Maltese and Gozitan artists alongside established international stars.'
Teatru Astra President Michael Formosa highlighted the significance of the artistic programme being presented by the theatre. He stated that the production of the annual opera places Socjeta Filarmonika La Stella as a key cultural agent on the Maltese Islands.  While registering recognition to the army of volunteers who continue to make such cultural project possible, he thanked Bank of Valletta and the Malta Arts Council for the renewed support, which he said is an investment in Gozo and its community. In a concluding remark he noted that "Teatru Astra, through the activities it animates, is proud to be profiling on a higher notch, Victoria's and Gozo's artistic offering".
Conductor John Galea, who also addressed the press conference stated that Verdi's music represents the embodiment of dramatic energy and passion, infusing dramatic situations with shattering expressiveness where all emotion is seen in terms of action and conflict. "Like last year's La Traviata offering, Il Trovatore has its own dose of sustained pathos, where the vocal texture impinges the basic emotions of love, hate, jealousy, grief and joy upon the audience. Melodic invention, whether soulful or impulsive, thus becomes the most immediate expression of human feeling."
A culturally-charged weekend
Opera patrons will have the opportunity to experience a culturally-charged weekend between the 24th and 26th October. The internationally-acclaimed Sicilian choir, Coro Lirico Siciliano, which has toured the world performing operas, will be delighting the audience with the best of its repertoire, including sacred music, at St George's Basilica on Friday 24 October at 12.30 pm.  A clarinet and pianoforte recital, featuring musicians Mario Galea and Francis Camilleri is scheduled in the evening of the same day at the Kempinski San Lawrenz Hotel. The programme includes major works for the clarinet with Weber's Clarinet Concerto no. 2 and Brahms Clarinet Sonata no. 2, among others.
Dr Abraham Borg, an authority on opera, will be discussing the context behind "Il Trovatore" during a lecture on Saturday 26th October at the Victoria's town hall at 10.00 am.  Moreover, patrons at Teatru Astra for Il Trovatore, who will be welcomed for a 'Brinidisi' – a pre-opera experience at Astra spacious foyer, will also have the opportunity visit an exhibition which narrates the history of Il Trovatore and opera in general on the islands.
Other events include a pianoforte recital by pianist Francis James Camilleri on Friday 18 October at Aula Mgr Farrugia, an onsite lecture by Dr Mark Sagona on Saturday 19 and an exhibition at Il Hagar Museum featuring the art of Anton Inglott.
Festival Mediterranea draws to an end in style on Saturday 16th November with La Stella Band's Annual Grand Concert at Teatru Astra.
Reservations and bookings for all these events can be on the festival helpdesk on 21550985, email bookings@mediterranea.com.mt. Booking and other information is available online.