The Maltese government spent only 60c per citizen on agricultural research and development in 2017, EUROSTAT figures show.
According to the European Union data aggregator, the Maltese government support for research and development in agriculture, was calculated to be less than one Euro per person two years ago.
This finding measured EU wide data on 'Government Budget Appropriations or Outlays on R&D' (GBAORD).
This placed Malta second to bottom on the list of countries investing in this area, just 20c higher than Luxembourg but considerably lower than the EU average of €6.3.
This is just one of the indicators forming part of the EUROSTAT's aggregated report and infographic entitled 'SDG's and Me,' outlining EU government's progress on meeting the Sustainable Development Goals. SDG2 refers to reaching 'Zero Hunger'.
Maltese agricultural outputs fell in 2017
Malta also appears lower in investment share than fellow Southern Mediterranean member states.
Portugal (€1.7), Italy (€4.3), Cyprus (€6.7) and Spain (€8.6) all reported higher investment per citizen.
Ireland (€20.6), Denmark (€13.4) and Finland (€13.2), reported the highest amount spent per citizen, across the European Union.  Norway is reported to have invested the highest within the European Economic Area, €64.9.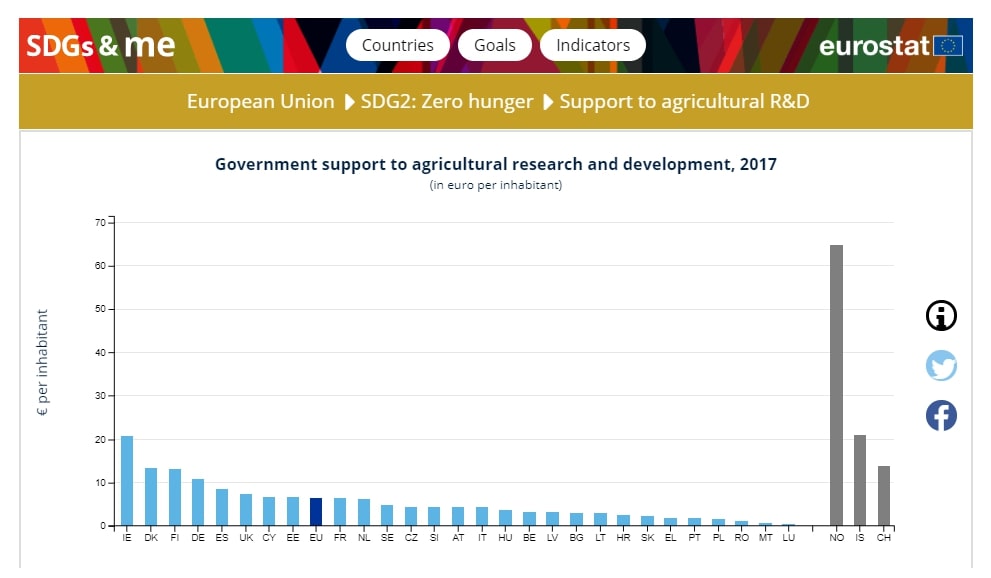 Highest Ammonia emissions in 2016
According to a further indicator regarding the amount of Ammonia emissions from agriculture, Malta also reported the highest amount per kilogramme and hectare or Utilised Agricultural Area (UAA).
The figures show that in 2016, Malta was emitting 94.9kgs of Ammonia in 2016.
This was a clear 30kgs greater than the second biggest producer, the Netherlands (61.1%). This was also over 70kgs greater than the EU average of 20.3kgs. Fellow Southern Mediterranean Member States were also producing much less than Malta; Cyprus (55kgs), Italy (28.8kgs), Spain (19kgs) and Portugal (12.8kgs).
Highest employment rate of recent graduates
The SDGs and Me report also outlines that Malta has the highest number of recent graduates entering employment in the EU, in 2018.
Malta's level is reported to be 94.8% of the population aged 20 – 34 years old, over 2% greater than Denmark (92.1%) and the Netherlands (92%). This was also higher than the EU average which currently sat at 81.6% last year.
Half of Maltese Primary and Secondary teachers over 50 – EUROSTAT
However, Malta's tertiary educational attainment for 20 – 34 year olds was much lower than the EU average. While the former is reported to be 34.2% of the age group in the population, the latter sat at 40.7%.
The highest percentages for tertiary educational attainment were reported in Lithuania (57.6%), Cyrpus (57.1%) and Ireland (56.3%).