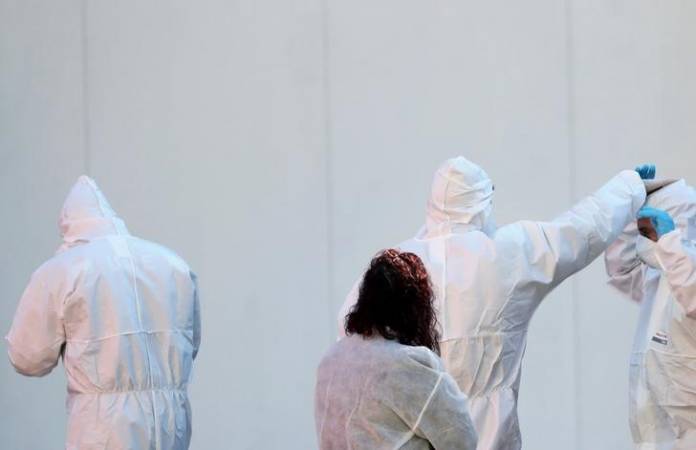 German hospitals with spare capacity will take in at least 47 coronavirus patients from Italy in a sign of European solidarity, Foreign Minister Heiko Maas said on Thursday.
"Because we stand by our Italian friends. We can only manage this together," Maas said in a short statement.
In Italy, an overwhelmed health care system has witnessed the outbreak kill more people than in any other country.
Ahead of an expected larger wave of domestic infections that German authorities are preparing for, a first group of six Italian patients arrived at Leipzig airport in the eastern state of Saxony on Tuesday.
Spain extended its coronavirus lockdown on Thursday and said it was fighting a "real war" over medical supplies to contain the world's second-highest virus death toll, turning to China for many critical products, where officials reported fraud and massive price increases.
A further 655 people died overnight, pushing Spain's toll from the respiratory disease to 4,089, second only to Italy and further beyond China where the outbreak began.
Elderly nursing home residents have been particularly hard hit. In Madrid, the region worst affected by the virus, authorities pledged to assess each residence and take urgent action as infections and deaths among their vulnerable population mounted.
"Old people have been abandoned in an astonishing way," said
French President Emmanuel Macron said on Friday that he had a "very good discussion" with U.S. President Donald Trump over the coronavirus crisis and that the two were preparing a new initiative to combat the pandemic.
"In response to the COVID-19 crisis, we are preparing with other countries a new strong initiative in the coming days," the French president said on Twitter.
French President Emmanuel Macron warned his fellow European Union leaders on Thursday that the coronavirus outbreak risked undoing the bloc's central pillars such as its no-border zone if they failed to show solidarity in this crisis, a diplomat said.
"What's at stake is the survival of the European project," he told the 26 other leaders in a conference call, according to a French diplomat. "The risk we are facing is the death of Schengen," Macron added, according to the same source.
reland reported 10 deaths from COVID-19 infections on Thursday, more than doubling the total number of fatalities to 19, Ireland's Department of Health said.
The country also reported an additional 255 confirmed infections to bring the total to 1,819, the department said in a statement.
Chief Medical Officer Tony Holohan said he was particularly concerned about infections in nursing homes and healthcare settings and the increase in the number of people being admitted to intensive care.