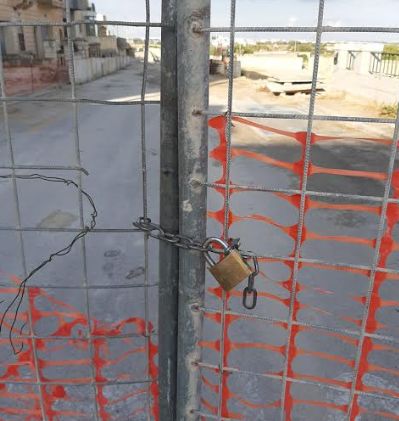 Tista' taqra bil- Malti.
A new padlocked gate has been installed on Ferdinand Inglott Street in Attard after the public failed to cooperate, Infrastructure Malta has claimed.
Residents of Ferdinand Inglott Street in Attard found their street closed off with a padlocked gate as Infrastructure Malta continues to work on the Central Link Project nearby, Moviment Graffitti reported earlier this week. The NGO highlighted that there was no possibility of vehicular access, even in case of an emergency.
Replying to questions by Newsbook.com.mt on why there a gate was installed and whether it was covered by a permit, a spokesperson for Infrastructure Malta claimed that unknown individuals would enter at night and remove dust barriers aimed at protecting pedestrians making use of the pavements. He maintained that the removal of the barriers posed a greater risk to pedestrians. Newly affixed signs indicating no parking zones had also been removed, he said.
The contractors were left with no other option except to prevent vehicular access by installing a gate, Infrastructure Malta argued. The gate was initially left open allowing access however signs were ignored as people continued to park nearby the ongoing road works.
"It was due to this irresponsible behavior that we had to cordon off the area," the spokesperson said.
He added that unknown individuals had resorted to using another entry where there are uncovered trenches after they forced it open during the night.
The spokesperson remained silent when asked by Newsbook.com.mt whether there were health and safety measures in place to protect the residents.
€55 million are being invested in the Central Link project which has been met with resistance from both activists and residents alike. The project includes the construction of thirteen junctions, the removal of four traffic light system and the adding of more than 7 km new carriageways along the 4.3 km route. The plans include 10 km of pedestrian access way.