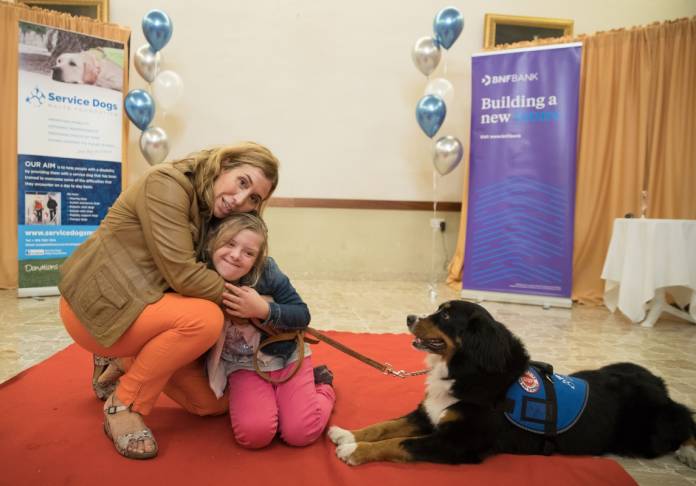 Four new dogs from The Service Dogs Malta Foundation have qualified to join the ranks of service dogs trained by the foundation.
The dogs – Bliss, Bud, Tim and Hudson – earned their blue vests and have now embarked on a new phase in their lives as companions and support for their young charges.
Bliss, a 2-and-a-half-year old Bernese Mountain Dog, qualified as an Autism / Downs Support Service Dog. She is a companion for 11-year-old Millie who may find it difficult to communicate with other children but has no problem interacting with Bliss, who she walks, grooms and takes care of daily. She also enjoys reading and talking to her. Millie's mum, Silvi says, "Bliss has brought great peace of mind to the family. Millie is much happier with her around."
Bud, a 2-year-old Labrador, qualified as an Autism Support Service Dog and is matched with 7-year-old Alysha. According to Alysha's dad, Keith, "Buddy has brought joy and calm into our lives. He makes a very stressful life, calmer. He is a loving and beautiful dog. He is loyal and he is a good friend to my daughter who is on the autistic spectrum and finds it hard to make friends. Buddy does not judge and always shows his love, no matter what."

Hudson, a 2-year-old Bernese Mountain Dog, qualified as an Autism Support Service Dog and now accompanies 10-year-old Isaac wherever he goes. Charles, Isaac's dad, says that, thanks to Hudson, Isaac can accompany the family wherever they go, including the festa which used to be overwhelming for him: "When we go out, I say to Isaac take care of Hudson and I tell Hudson take care of Isaac and off we go. Isaac will be focused on Hudson who never leaves his side and I give instructions to Hudson. He has been a perfect fit for our family."
Tim, a 2-year-old Labrador, is the only dog that qualified as a Diabetic Alert Dog out of the four. Tim is matched with Rube, 11-years-old, who has diabetes. Ritianne, Rube's mum, says that not only does Tim alert Rube when his blood sugar is getting out of range, that is too high or too low, but he is also a constant companion to him, always providing emotional support and comfort. He is very much loved by the whole family.
The dogs' achievements were celebrated at a graduation ceremony which was part-sponsored by BNF Bank who has also supported these dogs' training over the last three years. The last tranche of the sponsorship was presented by COO George Debono, during the ceremony. Also present was Parliamentary Secretary for Persons with Disability and Active Ageing Anthony Agius Decelis.
The Service Dogs Malta Foundation was set up in 2013 with the aim of providing service dogs to persons who could potentially benefit from having one. Once qualified, a dog is provided to the person it has been matched with for free.
This year the foundation will continue to focus on training dogs as autism support and diabetic alert service dogs with a special emphasis on training dogs to work with children. It will also continue its work with the students currently attending the various Resource Centres around Malta who eagerly look forward to the weekly classroom visits of the service dogs-in-training and therapy dogs.
For more information on the Service Dogs Malta Foundation, one may refer to their FB page and website.
All photos supplied by BNF