Andrea Camilleri, a MCAST student who won the competition to design Malta's logo for its bid for a seat on the United Nations Security Council (UNSC), was officially congratulated by Ministry for Foreign Affairs Permanent Secretary Christopher Cutajar.
After he talked through the concept behind his submission, Camilleri was gifted with a framed poster of the official logo which will debut at the United Nations General Assembly (UNGA) in New York next week.
Camilleri's logo will be used for the whole campaign and, if successfully elected, the 2023-2024 period Malta is on the UNSC. His submission had been selected by a Ministry board (comprised of diplomats, an academic, visual presentation expert, and a Non-Governmental Organisation representative) after a competition amongst MCAST students.
Encouraged by his tutor Christopher Aquilina, Camilleri said he learnt so much about Malta's foreign policy from his research, and is proud and excited his logo was chosen and would be displayed to senior diplomats from all over the world. The board had commended the winning design for the inspiration behind it. Andrea explained that he had merged several shapes to give it a visually iconic and meaningful impact.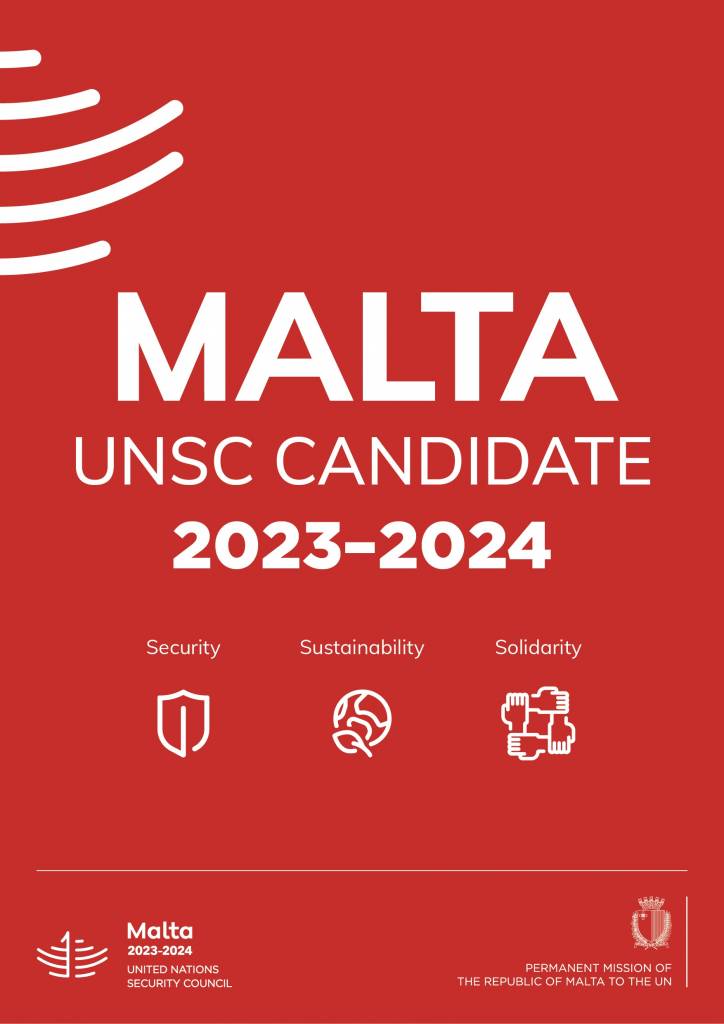 "I united the lines of a luzzu, our traditional Maltese fishing boat, so symbolic of our local culture, and the fact we are a small island state surrounded by the sea; with a dove, the universal symbol of peace and ultimately what the UNSC works to promote; and the shape of the inside of the General Assembly Hall, where the Permanent Representatives of the member states meet to debate and take internationally-important decisions."
Malta's Permanent Representative to the United Nations in New York Ambassador Vanessa Frazier, who is leading on the bid and currently attending the first-ever virtual UNGA, said she was delighted with Camilleri's eye-catching logo design. "In a hall as large as the General Assembly, we needed something simple yet striking, that symbolises the very essence of Malta and the work the Council does – this logo does just that."
Ambassador Frazier explained that the UNSC consists of 10 elected members and 5 permanent members. Malta was last on the UNSC in 1983-1984, and is contesting for one of two available seats from the Western European and Other States Group in June 2022.
Cutajar said he was impressed at the detailed process that was behind the logo's design, proving the high-quality of MCAST and its students work: "It is fantastic to see the younger generation learning and engaging in the work Malta is doing overseas. Thanks to Andrea's talents, this logo will ensure Malta has a great start to its bid campaign."
For more information on Malta's UNSC bid logo, you may contact Sarah-Louise Galea on 99943244.