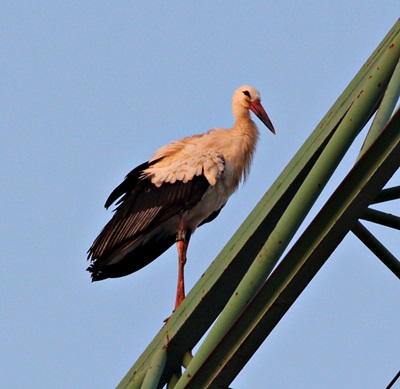 The last stork of the 18 that flew into Malta should be sent overseas due to safety reasons, and also due to issues concerning his diet, the Ornis committee has decided. The Malta Ornis Committee is established for the purpose of advising the Minister for the Environment on a range of matters concerning conservation of wild birds.
Federation for Hunting and Conservation (FKNK) CEO and Ornis committee member Lino Farrugia told Newsbook.com.mt that the committee agreed that for the sake of the stork's well-being, it shouldn't stay in Malta. BirdLife conservation manager and Ornis committee member Nicholas Barbara agreed with this sentiment, saying that the decision makes sense in light of recent events concerning hunters.
However, Farrugia went on to say that the stork's diet is also a concern. Given that storks, amongst other things, eat frogs, insects and earth worms, he expressed worry that the stork may not be finding enough to eat. Barbara added that the bird may be attempting to find food at Maghtab, which is Malta's largest landfill.
Attempts to catch the bird have failed thus far, and a foreign expert has been called on to help. Once caught, the bird will be evaluated by a vet to ascertain that it is in good health to be transported, as it is a stressful procedure, said Barbara.