Tista' taqra bil- Malti.
Fewer people were working in Financial and Insurance Activities in the second quarter of 2019 than the same time last year, new figures show.
According to the Q2 Labour Force Survey for 2019 (April – June), there were over 500 fewer (523) women working in the sector of Financial and Insurance Activities compared with the same period in 2018. This equates to 6.168 in 2019 and 5,645 in 2018.
This decrease is contrasted by an actual increase in the average salaries women received within the sector. While women were paid an average of 18,049 in Q2 of 2018, they saw a boost of over €4,000 (€4,618) in Q2 2019.
Likewise, for men, there was a drop of over 200 in their employment in this sector, from 5,927 to 5,699 (228). Equally, they also saw an increase in their salaries of just under €1,000 (€982), only a quarter of what women in the sector were seeing. This translated as a difference between €29,331 and €28,349.
Read more:
More self-employed women in Q1 2019
Inclusivity in budget 'appropriate' but a question of translating into action – economist
Watch: "The first year is the most difficult; I thought about quitting but didn't"
Watch: 'Studies don't really prepare you for the self-employed world'
The figures also show that there were more women working in public services in Q2 2019 while the number of men in the same sector, dropped.
NSO reports that over 3,000 more women were working in 'Public Administration, defence, education, human health and social work activities' while there were over 1,000 fewer men in the period.
This translates for women as 34,473 in Q2 2019 compared to 31,288 in Q2 2018 (3,185). For men, this was 24,403 in Q2 2019 and 26,117 in Q2 2018 (1,714).
Compared to the Financial and Insurance Activities sector, salaries for men and women in public services did increase but by a much lower rate.
For women this was 19,295 in Q2 2019 from €18,791 in Q2 2018 (€504). For men this was €21,096 in Q2 2019 from the €20,094 in Q2 2018 (€192).
Overall, the NSO's report says that the number of people employed in the Maltese economy increased by 7% with the total workforce registered at 251,700, just over half of the population over the age of 15 years old. Over 8,000 people (8,815) were recorded to be unemployed.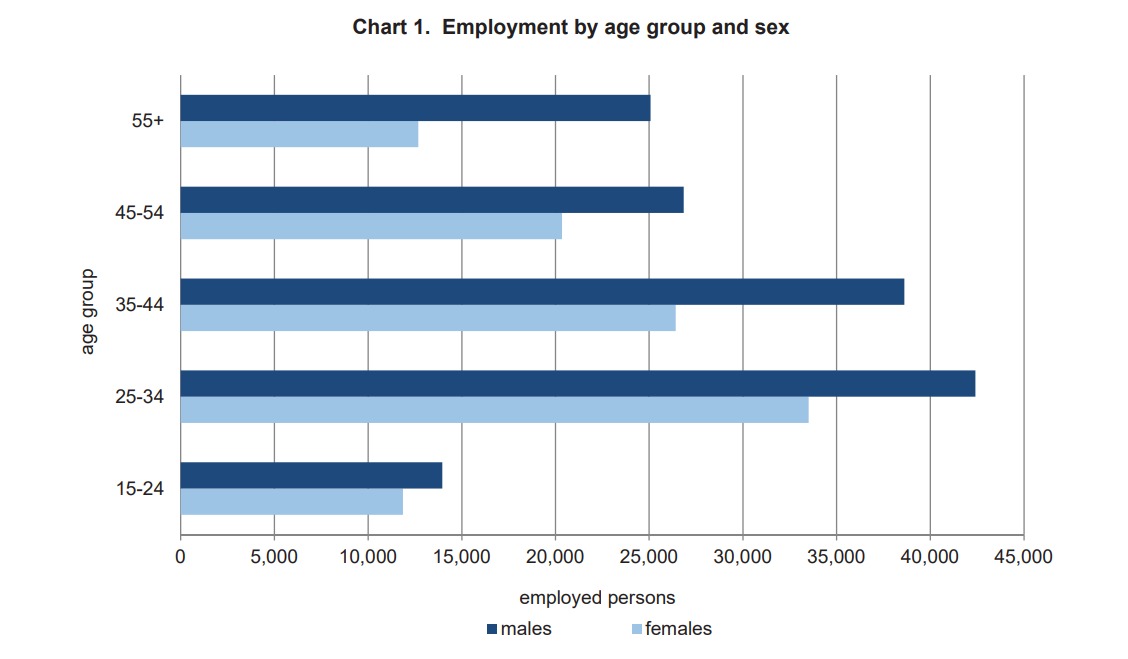 The most economically active were males within the 25-34 age group. They accounted for 95.8% of the total age group working (around 43,000), while females were recorded at 80.1%, around 34,000.