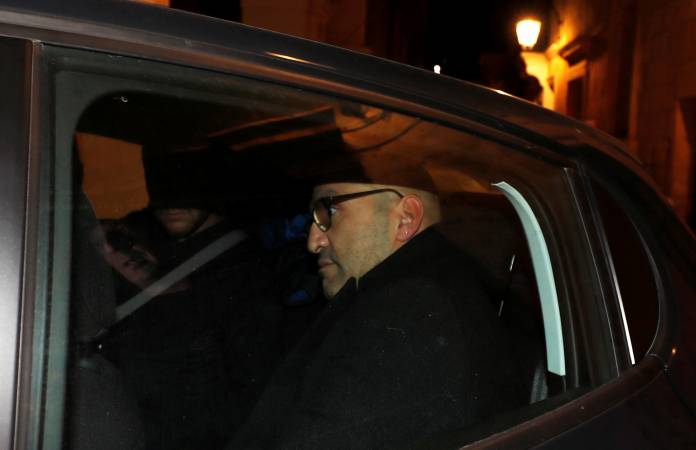 Tista' taqra bil- Malti.
Newsbook.com.mt is reliably informed that Yorgen Fenech abandoned the plan to escape to Tunis in a dinghy as he feared for his life. The plan was hatched in the Gozo villa of Fenech's doctor, Adrian Vella, who also happens to be the doctor of Keith Schembri. From Tunis, the plan was for Fenech to travel to Dubai.
Our sources said that Fenech was not afraid of rough seas but that "something" could happen to him in the process. Our sources could not confirm the name of the persons of who Fenech was afraid of.
Details of the escape plan were leaked to the media a couple of weeks ago and were confirmed in Court by Inspector Keith Arnaud in the sitting of December 19.
Arnaud testified in Court to more than one plan to escape.
Escape plan 1: France
Arnaud said that the police had not planned to arrest Fenech till they had finished speaking to Melvin Theuma, the middleman who has now received a Presidential pardon. But the situation changed when the media reported that Theuma was arrested and was seeking a pardon.
The chief investigating inspector referred to a Signal message conversation Yorgen Fenech had with his uncle Ray Fenech. They discussed the latest development as well as the possibility of leaving Malta, probably for France, without being caught. Ray Fenech had suggested Yorgen should not use his credit cards.
The police came to know about the messages after Yorgen Fenech was arrested.
Escape plan 2: Tunis
Arnaud confirmed in Court that Dr Adrian Vella had told the police that a weekend before Yorgen Fenech's arrest there was a plan for Fenech's escape from Malta but that Schembri had nothing to do with this plan.
Vella told the investigators that Fenech was in a very bad state after the arrest of Theuma, the middleman. He invited Fenech to his villa in Gozo so that he could calm down. Vella drove Fenech to Gozo and both stayed in the car during the ferry trip.
Franco Fenech, Yorgen's brother met them in Vella's villa. There several "fantastic ideas" of how Yorgen could escape were discussed but the preferred plan was to escape on a dinghy to Tunis.
Our sources confirmed all this, adding that then Yorgen Fenech started to be afraid for his life consequently abandoning the plan to escape to Tunisia.