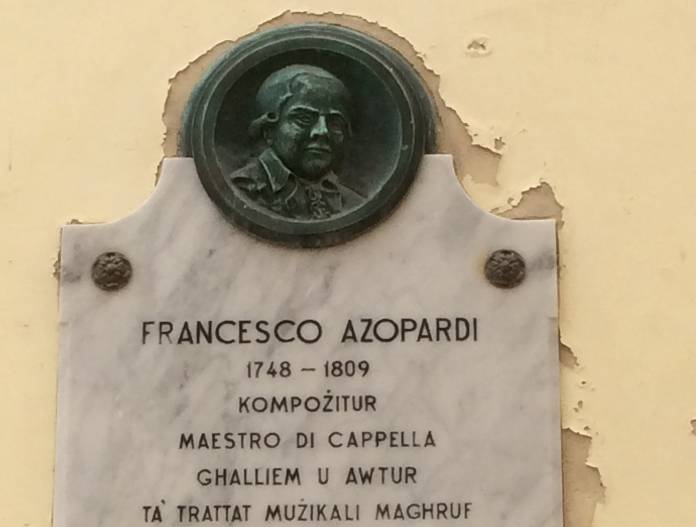 Francesco Azopardi was a Maltese composer and music theorist who made a name for himself and the Maltese Islands all over the world.
Thanks to Dion Buhagiar who is currently the Maestro di Cappella of St. Paul's Cathedral, Mdina and St. John's Co-Cathedral, Valletta together with the support of APS Bank, Azopardi's works and his life story is now shared in what we consider to be one of Faraxa's most prestigious publications to date – Franceso Azopardi (1748 – 1809) Maltese Classical Composer and Theorist.
"One of the pleasures of working in publishing is being given the opportunity to shine a light on individuals who have made a name for themselves and our islands internationally, talent who is not always given the attention or merit they deserve. When Dion Buhagiar reached out to this about this publication we were honoured, and thrilled," Joanne Micallef, Founder of Faraxa Publishing said.
This publication leads the reader on a carefully organised tour of Francesco Azopardi's accomplishments. Buhagiar explains Azopardi's resourceful assimilations and distillations of Italian and French theory, his command of modern as well as learned styles, his faultless clarity of presentation in introducing the aspiring composer to the elements of compositional technique, and his novel pedagogical concepts of simplification and analytical reduction. It is a must-have for music enthusiasts, history lovers and individuals who have a passion for Maltese culture and the arts.
Nominated for an award in this year's National Book Awards organised by the National Book Council, this book continues to present to Faraxa so many rewarding moments. It is one of the most popular publications that is being ordered to send to Maltese music lovers living in Australia, Canada and all over the world.
In the latest interview on 'Between the Lines', Coryse Borg interviews Prof. Dion Buhagiar who speaks about his book 'Francesco Azopardi 1748 – 1809 Maltese Classical Composer and Theorist'.
To celebrate the launch of Faraxa's collaboration with Newsbook.com.mt, readers have the opportunity to benefit from 10 percent off any of their favourite Faraxa titles. To benefit from this offer simply visit Faraxa's website and add coupon code 'NEWSBOOK' at check-out. Free delivery (Maltese islands) is also included.