Tista' taqra bil- Malti.
European Commission president Ursula von der Leyen said the mass roll-out of a viable coronavirus vaccine was "a touching moment of unity" for the European Union.
President von der Leyen was reacting to the first vaccinations of anti-Covid jabs across the EU states.
The first Maltese to receive the vaccination was Rachel Grech, a staff nurse at the IDU department at Mater Dei Hospital.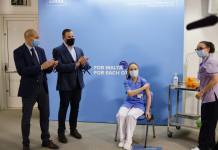 In Italy the first jabs where given in Rome. Claudia Alverini, was amongst the first Italian health care workers to be vaccinated. She said she felt honoured to be amongst the first to receive the vaccination.
Czech Prime Minister Andrej Babiš was the first European leader to be vaccinated.
Other leaders that got vaccinated on the first day include the Slovak President and Greek President and Prime Minister
In the meantime, Spain, Canada and Sweden have reported new cases related to the new UK Covid-19 variant.