European Commission President Ursula von der Leyen announced that the Moderna anti-Covid vaccine has been approved by the European Medicines Agency.
Today, the European Commission has granted a conditional marketing authorisation (CMA) for the COVID‑19 vaccine developed by Moderna, the second COVID-19 vaccine authorised in the EU. This authorisation follows a positive scientific recommendation based on a thorough assessment of the safety, effectiveness and quality of the vaccine by the European Medicines Agency (EMA) and is endorsed by the Member States.
The President of the European Commission, Ursula von der Leyen, said: "We are providing more COVID-19 vaccines for Europeans. With the Moderna vaccine, the second one now authorised in the EU, we will have further 160 million doses. And more vaccines will come. Europe has secured up to two billion doses of potential COVID-19 vaccines. We'll have more than enough safe and effective vaccines for protecting all Europeans."
Stella Kyriakides, Commissioner for Health and Food Safety, said: "We are all in this together and united. This is why we have negotiated the broadest vaccine portfolio in the world for all our Member States. Today we are authorising a second safe and effective vaccine from Moderna, which together with BioNTech-Pfizer, will ensure that 460 million doses will be rolled out with increasing speed in the EU, and more will come. Member States have to ensure that the pace of vaccinations follows suit. Our efforts will not stop until vaccines are available for everyone in the EU."
Earlier today the Belgian politician made the announced the EMA approval on Twitter.
EMA approved the Pfizer/BioTech on 21 December and an EU wide vaccination programme kick-started on the 27 December.
Malta received the first Pfizer/BioTech doses on 26 December. The first Maltese was nurse Rachel Grech, she was jabbed on the 27 December.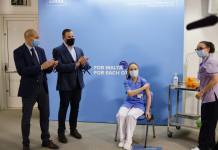 Meanwhile, in the United Kingdom, the Oxford researched vaccine AstraZeneca was approved. A controlled rollout commenced last Monday.