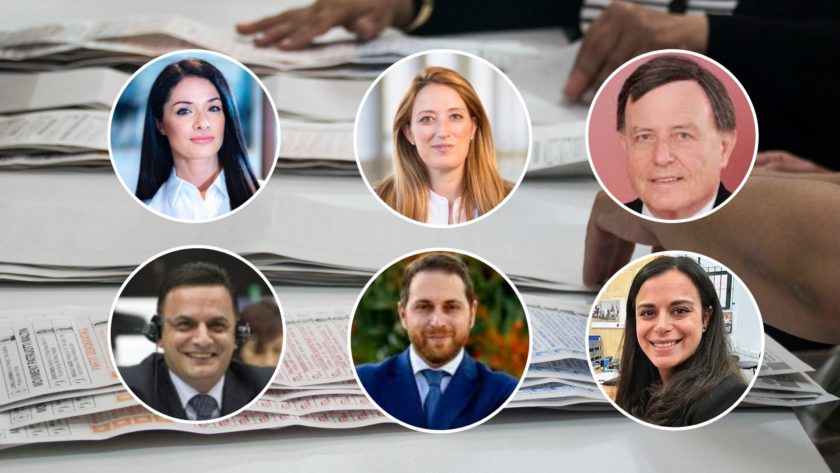 Tista' taqra bil- Malti.
In the early hours of this morning, the Election Commission announced the official results of the election of Members of the European Parliament held on the 25th May 2019.
As had been predicted late yesterday evening, there are four elected candidates for the Partit Laburista and two for the Partit Nazzjonalista. According to the Commission, the candidate who received the most votes is Miriam Dalli (PL), followed by Roberta Metsola (PN). Alfred Sant (PL) is in third place, followed by David Casa (PN), while Alex Agius Saliba (PL) is in fifth place, followed by Josianne Cutajar (PL).
Among the six Maltese MEPs, there are two new faces – Alex Agius Saliba and Josianne Cutajar. Francis Zammit Dimech (PN) was not elected this time and Marlene Mizzi (PL) chose not to contest this year's election.
There are still no official final figures regarding exactly how many votes each candidate received (both elected and non-elected). However, the unofficial results issued late yesterday evening by PL agents state that Miriam Dalli obtained about 51,000 votes, Alfred Sant – 21 300, Alex Agius Saliba – 15,000 and Josianne Cutajar – 12,900. Meanwhile PN agents stated that Roberta Metsola obtained 31,000 votes and David Casa – 16,500.
The quota in order to be elected is that of 37,000 votes.
What are the new MEPs saying?
The candidate who received the most votes, Miriam Dalli, thanked all those who gave their votes to her and announced that it received a total of 63,438 votes. She said she could not find the words to express her gratitude and claimed that her responsibility was now even greater. She promised to continue to strive to represent the people in the best possible way.
Bongu ❤️63,438 vot. Grazzi lil kull wiehed u wahda minnkom. Mhux insib il-kliem biex nesprimi l-gratitudni tieghi…

Posted by Miriam Dalli on Sunday, May 26, 2019
Roberta Metsola said that she was honoured to have been re-elected to serve as an MEP. She said she had been elected with a total of 38,206 votes and thanked all those who had decided to trust her with the job.
Honoured to have been re-elected on the first count to serve as your MEP with 38,206 votes. Thank you for your trust, I will work hard to continue to repay your faith in me. 💪🇲🇹🇪🇺 #YourMEP

Posted by Roberta Metsola on Sunday, May 26, 2019
Alfred Sant also showed his gratitude on social media.
David Casa said that to hold the trust of the people, as he was elected to Parliament for the fourth consecutive election, was 'incredible'. He said he is truly honoured to again be selected for this role and pledged to be the voice of the people in the European Parliament.
Grazzi, grazzi, grazzi.Il-fiduċja tagħkom għar-raba elezzjoni konsekuttiva tiegħi hija inkredibbli. Verament onorat li…

Posted by David Casa on Sunday, May 26, 2019
Alex Agius Saliba said that had been elected as the third MEP on behalf of the PL with a total of 35 823 votes. He thanked everyone for their support.
Elett bħala t-3 Membru Parlamentari Ewropew 🇪🇺 f'isem il-Partit Laburista b'35,823 vot 🗳️! Grazzi mill-qalb tal-appoġġ tagħkom 🙏🏻#maltafqalbna 🇲🇹❤️

Posted by Alex Agius Saliba on Sunday, May 26, 2019
Josianne Cutajar thanked everyone who supported her and said that she is deeply honoured.