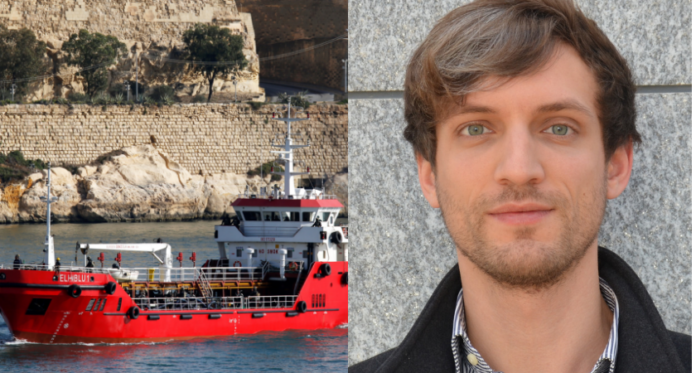 Could the El Hiblu 1 incident have been the culmination of failed border policies? Newsbook.com.mt interviewed Valentin Schatz a research associate and Ph.D. candidate at the Chair of International Law of the Sea and International Environmental Law, Public International law and Public Law (Professor Alexander Proelss) of the University of Hamburg, Germany, on piracy as well as referred to the case of El Hiblu 1 throughout the conversation.
READ: El Hiblu: Piracy as defined by the international law of the sea – An interview with Valentin Schatz (Part 1)
READ: El Hiblu 1: Existing case law – An interview with Valentin Schatz (Part 2)
Taking the incident in its context, the El Hiblu 1 incident could be viewed as the result of European border policy, Schatz remarked. He referred to the downgrading of the mission in the central Mediterranean which is now almost history as well as the restrictive policies adopted by Malta and Italy in the case of disembarking the rescuees.
Schatz explained that commercial vessels are obliged to carry out search and rescue at sea when they encounter boats in distress. In the case of El Hiblu 1 the maritime rescue coordination centre had even asked the commercial vessel to conduct the search. However when it comes to disembarking the asylum seekers the commercial vessels might face problems. He explained that commercial vessels cannot take the people to Europe as they risk remaining without a port of safety or being faced with criminalization. Further Schatz explained commercial vessels are not equipped to take on board such a large amount of people in need of assistance for a long period of time.
Private actors face a dilemma
Comparing what happens when a search and rescue NGO steps in to when a commercial vessel is asked to conduct a rescue, Schatz observed that while NGOs as part of their self-given mandate ensure that the asylum seekers are disembarked in a recognised safe port where human rights are ensured, commercial vessels would have to make a decision to either disembark the rescuees in the ports to which they are directed by the Maritime Rescue Coordination Centre which is in charge over a particular case or to act similar to the NGOs. This decision between subjecting rescues to potential human rights violations in Libya and being faced with no port access, commercial losses for delays, and potentially even detention of the vessels and criminalisation of the crew should not be placed on masters of commercial vessels.
Thus he explained people might 'revolt' on getting to know that they are being returned to Libya where they would face immediate threats. Schatz further explained that rescuees could try to talk and convince the master of the vessel to re-route or even resort to illegal means, however commercial vessels .
'Had it been a government vessel…'
Describing the situation as paradoxical, Schatz noted that while government vessels such as those operated by the  Maltese or Italian coast guard would not be in a position of taking the asylum seekers back to Libya due to the principle of non-refoulement, NGOs and commercial vessels are expected to take them back to Libya by these states.
Schatz described the approach taken by the European Member States towards private actors as problematic saying that they did not accept what private actors are doing what they would have to do themselves had they been the ones rescuing the people in distress. The lawyer acknowledged that Malta and other peripheral states faced pressures and were partially left on their own to deal with the challenges of migration. However he said that despite the political dimension and attempts to pressure the bloc into long-term solutions on migration, he was not seeing positive results from the stand adopted by countries such as Malta and Italy.
Problem could have been avoided had the European governments been involved in rescue missions
Schatz in his concluding remarks said that the master of a commercial vessel may feel conflicted over whether to take the people they rescued to Libya or take them to Europe. Such a conflict of interest does not lie when an NGO vessel carries out a search and rescue operation, since their aim would be to rescue asylum seekers and bring them to a recognised port of safety.
He underlined that had it been a government vessel, such dilemma would have not arisen, as the asylum seekers would have been brought to safety in Europe.