The Planning Commission has decided to conduct a site visit to evaluate the recommendation to refuse PA 7986/19. The application seeks to demolish the existing villa and replace it with apartments and basement garages. This is the second attempt to demolish a villa in that area, an action which would compromise two historically important and listed buildings: Villa Gourgion and the Lija Belvedere where the 1921 constitution was signed. The application is recommended for refusal. Observers close to the Planning Authority have indicated that a site visit may be a prelude to the Commission seeking a means to overturn the recommendation.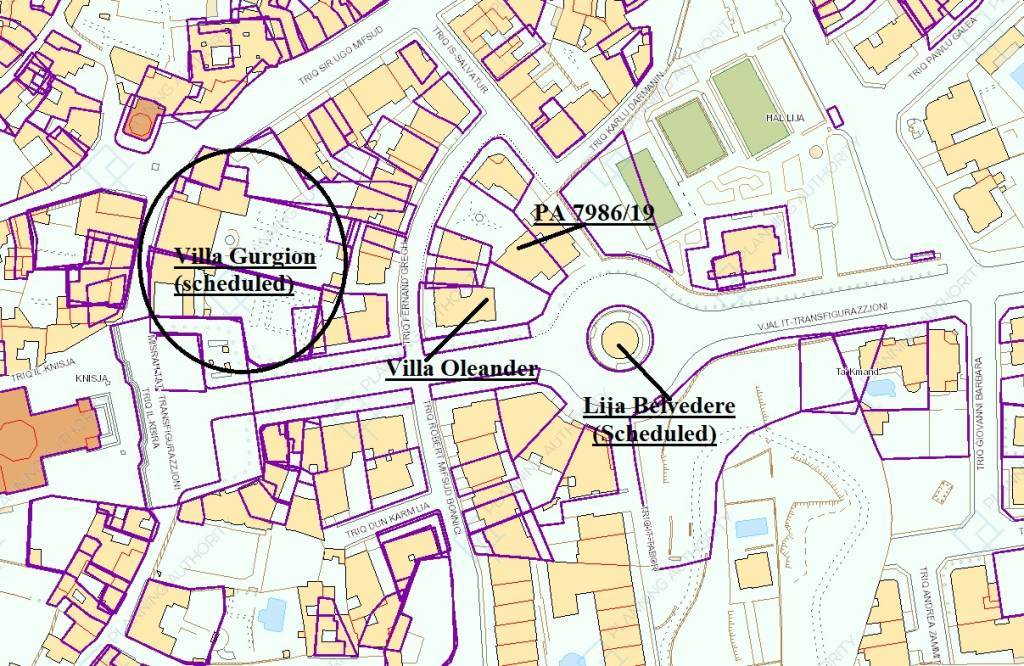 The application does not specify the number of floors or apartments which are being proposed for construction. However, the area is, according to the Central Malta Local Plan, set for three floors and a semi-basement. This effectively means that the proposed building will most likely go up to near five floors. This is because the semi-basement can be as high as only 3 courses below street level and the penthouse, though not applied for in this application, is almost a given.
History threatened
This application falls within a buffer zone created after the scheduling of two important national landmarks: Villa Gourgion and the Belvedere. The whole of Transfiguration Avenue was indeed, part of the grounds of Villa Gourgion. This 18th Century stately house had a Belvedere, a folly, in its grounds, something which was fashionable at that time. Apart from the architectural significance of both house and Belvedere, the latter also has historical significance as the 1921 constitution was signed there. When seen from the street, the entrance of the Belvedere seems off centre. In fact, the entrance of the Belvedere is linked directly to the garden door of Villa Gourgion, unifying both house and folly. MEPA had scheduled these two monuments and created a buffer zone around the monuments after a similar attempt to the integrity of these two buildings had been made a few years ago.