Tista' taqra bil- Malti.
Three new coronavirus cases were detected over night after 731 swab tests were carried out.
The Superintendent of Public Health Professor Charmaine Gauci announced that another 7 individuals have successfully recovered meaning that the total number of recoveries is 399.
Since 7 March, a total number of 480 cases have been registered.
During the daily coronavirus update, Prof. Charmaine Gauci explained that seven patients are being treated at Boffa Hospital, five at St Thomas, and two at Mater Dei Hospital – one in intensive care, who is stable, and one at the IDU. All other cases are being treated at home.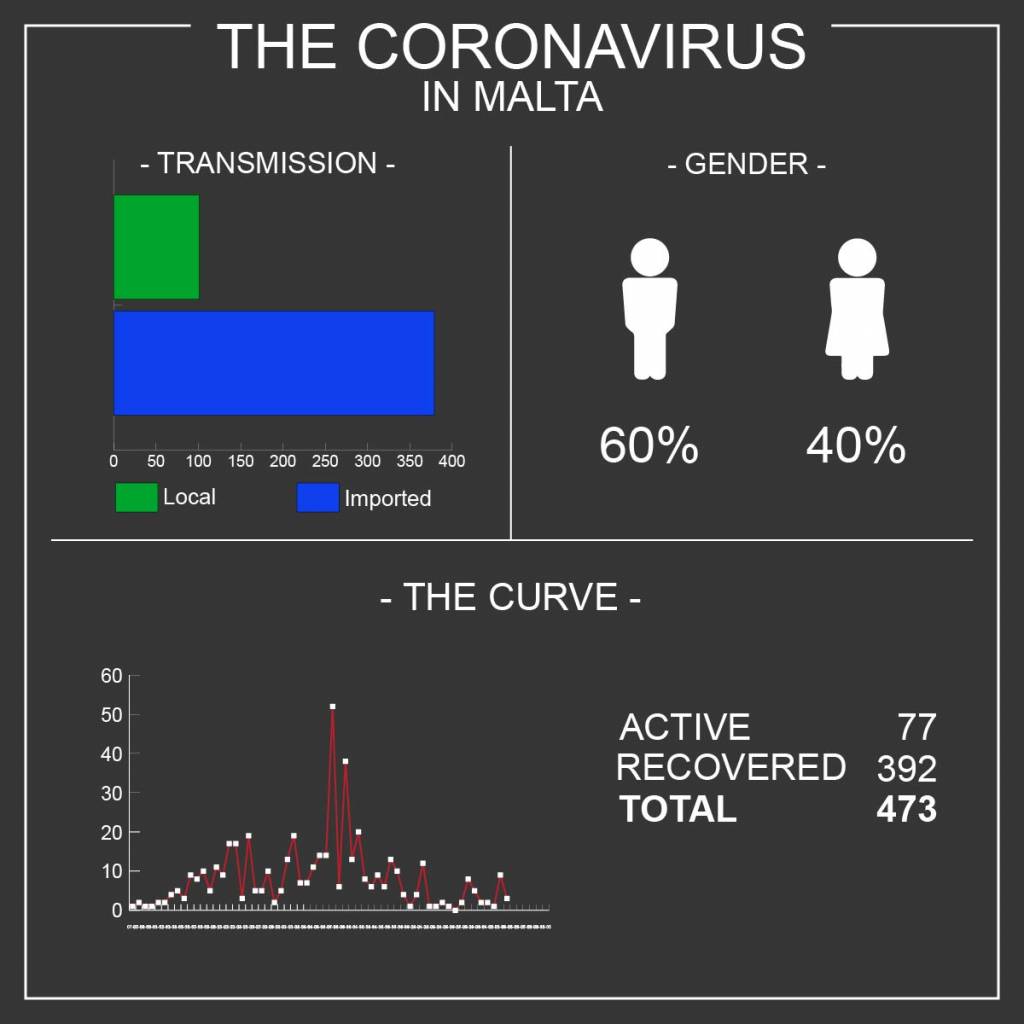 Prof. Gauci says that the time has not come yet.
Another question concerns frontliners who had to leave their family home, and whether they could back to their family home.


Cloth masks should be washed at 60 degrees Celsius.
Prof. Gauci explains how to wear a mask.


Children under the age of 3 should not wear masks.
Another question relates to the vulnerable. Prof. Gauci says that vulnerable are not yet allowed to leave their homes. She stresses at this point in time, vulnerable individuals should stay home.


All the different swab kits were effective, Prof. Gauci says. She explains that further the tests were taken to medical labs to carry out PCR.
Public Transport drivers have a right to refuse passengers if they are not wearing a face masks.
The wearing of masks is obligatory in retail outlets, on the Gozo Channel and public transport. She says that a person who does not, would be committing an offence under the Public Health Act.


Prof. Gauci explains that a risk assessment was carried out. She says that when lifting a measure, one needs to mitigate.
Why were the health authorities against the wearing of masks or visors in public before now? What changed?
Another question concerns public gatherings and the record number of fines handed out on Sunday. Prof. Gauci said that the aim of the authority was not to fine people but to protect the public and curb the spread.


The first question concerns asymptomatic individuals and whether they could recover without ever showing any symptoms.

Prof. Gauci says that the phenomenon is still being studied. Asymptomatic cases were detected during random testing. Following these patients closely, some developed no symptoms until recovery. Asymptomatic cases can transmit the virus but at a lower rate.
Question time.
A mask or a visor are to be worn when using public transport.


She reminds businesses that they need to work out the number of people that could be allowed inside at one go.
On wearing face masks in public, Prof. Gauci says that it is important to wear it to protect others as well as oneself.


She says that vulnerable people should remain home and avoid going out. She warns that vulnerable people remain most at risk.
Prof. Gauci refers to easing of measures. She underlines that while measures on public gatherings have been eased off, did not mean that one should start gathering in public.

One person remains in intensive care, but he is not breathing through a ventilator.
One person at Mater Dei Hospital.
7 patients at Boffa Hospital.


33-year-old man and 50-year-old woman were both separate contacts of another person who had tested positive last week.

26-year-old health care worker who works at Mater Dei. A risk assessment was carried out.
The new cases:
Seven patients have fully recovered. The total number of people who have recovered so far is 399, meaning that 77 active coronavirus cases.


All of which were symptomatic cases.
Three tested positive after 731 tests were carried out in the last 24 hours, Prof. Charmaine Gauci announces.
Yesterday nine new cases were detected during the swab tests, while another 13 individuals had successfully recovered.
Good afternoon and welcome to Newsbook.com.mt LIVE blog.
On the eve of lifting some of the coronavirus restrictive measures, the health authorities announced that nine new cases were detected in the tests carried out whereas thirteen individuals had successfully recovered.
If you want to be the first to receive the latest news on the coronavirus in Malta, download the Newsbook APP here.