Following the legal notice issued by the Malta Tourism Authority which, according to the Medical Association of Malta, is completely different from what was announced by the Superintendent of Public Health, a number of memes on social media – from local cartoonists, as well as the general public – have been proliferating.
Newsbook.com.mt has chosen some of the best.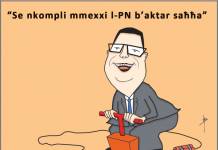 If you want to be the first to receive the latest news on the coronavirus in Malta, download the Newsbook APP here.