The daily briefings related to COVID-19 by Professor Charmaine Gauci was translated in real-time on Newsbook.com.mt. This service is being given to ensure that non-Maltese speakers are adequately and speedily informed of the developing situations.
The briefing has ended. We will keep you updated on Newsbook.com.mt
Prof Gauci said that no one has as yet tested positive twice for the virus. The fact that only 3 tested positive today is an illusion, warned Gauci as the curve is still climbing. She warned that people should keep to the directions given by the government and not take things for granted
All tests, even those in the private sector have been cleared by government and all are working in collaboration. Government is immediately informed if a private clinic finds a positive case. Medical students are also being roped in to help in the situation. The fine for persons under quarantine is Euro 3,000 while those who test positive and are not at home will be fined Euro 10,000
Prof Gauci said that the curve is, predictably, increasing but it is doing so slowly. "It depends on us how much we can keep this low. If we follow the recommendations and keep healthy we will keep the curve down" said Gauci.
Prof Gauci said that according to epidemiologists, 20% of all those affected by COVID would need recovery and if there is prevention and protection of vulnerable sectors of the population, the 20% would go down. Malta has been speedy in its implementation of social distancing and other measures.
Prof Gauci said that investments in hospitals was still ongoing and the sector was planning ahead so that the COVID patients would not take over beds for normal acute-need patients. "COVID came out of the blue and people do not just stop being sick," said Gauci.
Prof Gauci said that all homes have been advised on protocols needed for the elderly. She said that when persons are in quarantine they do not need PPE as the area would be sealed off.
Journalists are asking about persistent reports that there is a lack of protective clothing. Asking as well about the plans for homes for the elderly.
Prof Gauci said that the doctors in Public Health have been trained and are being updated on developing health protocols. She said that the training is being extended to all health care professionals and they are being trained to wear protective clothing.
Prof Gauci said that all possible conversions are being made to adapt spaces for serious cases in line with the amounts of persons compared to abroad. She added that in the case of St Lukes, the building had been disused for too long and new spaces made more sense.
Gauci reports all cases stable even the 61-year old who is in the hospital and is undergoing combined treatment. He is doing well, said Gauci and may also be included in international medical trials.
The second case was a university student who had been to the UK and who attended lectures prior to developing symptoms
The first two cases were females who developed symptoms at around mid-March.
The Superintendent of Public Health has just announced that thee new cases have been located.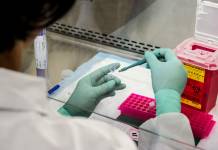 If you want to be the first to receive the latest news on the coronavirus in Malta, download the Newsbook APP here.