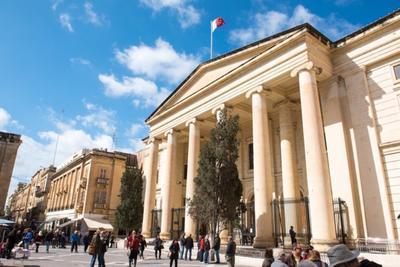 Tista' taqra bil- Malti.
Submissions for and against Vince Muscat's request for bail were made on Tuesday in a Criminal Court presided over by Mr Justice Aaron Bugeja. The judge is expected to deliver his decision in the coming days.
Muscat who is known as il-Koħħu stands accused of murdering investigative journalist Daphne Caruana Galizia along with co-accused brothers Alfred and George Degiorgio.
Defence Counsel Arthur Azzopardi and lawyer Philip Galea Farrugia made their submissions on Tuesday.
Read: Casa and Gomes reject Degiorgio brothers' request for a meeting
The court had already acknowledged that the situation "could not persist indefinitely" but deemed the Attorney General's objection was still "justified."
Lawyer Arthur Azzopardi appearing for Muscat cited case law from the European Court of Human Rights. He argued that his client understood that the case is a serious one and is only applying for bail at a later stage.
The three accused have been kept under preventive arrest. A few weeks ahead of the day they would have been granted automatic bail, the office of the Attorney General issued a bill of indictment.
The prosecution persisted in objecting to the accused's bail request arguing that the investigations were still ongoing and that the accused's release from preventive arrest could give rise to tampering with evidence. Lawyer Philip Galea Farrugia appearing for the AG's office argued that there are third parties that have not been caught, on Tuesday.
Muscat's lawyer insisted that the prosecution could not insist on denying the accused of his rights. He added that from his client's police record, he was fined for minor incidents relating to insurance, among other things.
In May the court denied another request for bail, citing public order concerns.
Madam Justice Edwina Grima had ruled that although a person was presumed innocent until proven guilty, the granting of bail was not an automatic right.
Read: Updated: Daphne's assassination: Vince Muscat denied bail
Lawyer Azzopardi argued that a number of cases in which he was appearing either as defence counsel or parte civile, the accused were released on bail after a few months under preventive arrest. He argued that the point put forward by the Attorney General's office about 'disruption of public order' does not hold, as he cited a number of local cases as an example.
"Liam Debono was granted bail within five months. His was a case of public disorder," argued Azzopardi. He added that the case had prompted a national protest which was led by then-President Marie-Louise Coleiro Preca. In the case of Caruana Galizia, Azzopardi continued that this is a political case, "there were those who love her and those who hated her", adding that the international public disorder was because of the media.
Lawyer Philip Galea Farrugia observed that it is a case of public disorder, adding that Malta had ended up on international media for all the wrong reasons.
Read: Reports say indictiment on Daphne accused imminent; Prosecuting officer says "not true"
He reiterated that the investigation is still on-going.
Present in the courtroom were Muscat's relatives. His daughter supplied photos of the last family holiday to London, as Azzopardi argued that there is no fear that his client will abscond. He added that he does not have a history of travelling exhibiting photo from the early 2000s.
Mr Justice Aaron Bugeja will deliver his decree in his chambers.