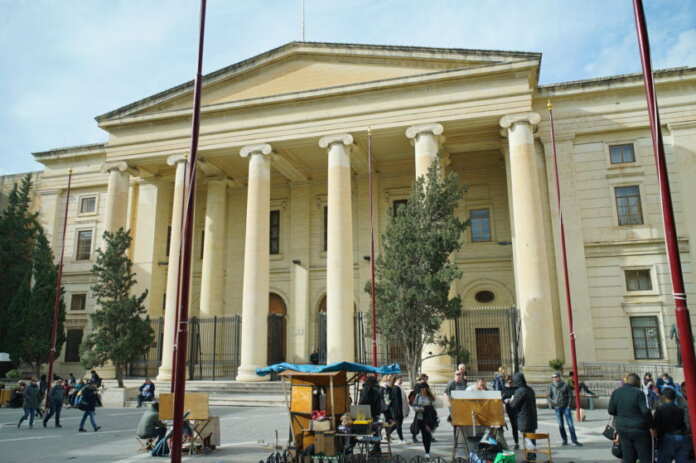 Tista' taqra bil- Malti.
Court proceedings will be suspended except for any urgent cases or where the Court decides otherwise as from Monday 16 March.
This was announced late on Friday evening by the Justice Ministry. Earlier during the day, the Chamber of Advocates instructed its members to snub court and tribunal sittings after the authorities refused to consider measures to limit the potential risks from the coronavirus in court.
In a statement, the Justice Ministry said that discussions were held between Minister Edward Zammit Lewis, Chief Justice Joseph Azzopardi and the President of the Chamber of Advocates Louis De Gabriele. It was then decided that as from Monday, all court proceedings shall be suspended, except for any urgent cases or where the Court decides otherwise.
The relevant Legal Notices will be published and become effective as from Monday including the suspension of any legal or judiciary terms according to the same Legal Notice. Such Legal Notices will remain in effect until revoked by the Superintendent of Public Health.
Minister Zammit Lewis noted that this measure was decided after careful considerations with all stakeholders in order to appropriately protect and safeguard the judiciary, lawyers, staff, and all members of the public that for whatever reason may need to enter within the premises of the Law Courts, against the spread of the COVID-19.
Court upholds Ministry's application
A Court presided over by Mr Justice Anthony Vella upheld a request by the Social Solidarity Ministry to suspend supervised access for children who are under a care order as well as those who are not, with immediate effect.
The request was done as a precautionary measure to minimise the spread of the coronavirus.
In a statement the Family Ministry said that its ultimate aim was to safeguard the best interests of the minors, their relatives and its employees.
Chamber of Advocates instructs members to snub court and tribunal sittings
Earlier on Friday, the Chamber of Advocates issued a statement in which it said that it was in disagreement with the stand taken by the authorities as the Law Courts was a public space which attracted large numbers of people on a daily basis.
People were not only inside the courtroom but also in the common areas of the building, the chamber noted.
Activity inside the Courts of Justice is a daily public activity and human interactions must be minimised to curb the spread of the virus, it said.
If you want to be the first to receive the latest news on the coronavirus in Malta, download the Newsbook APP here.