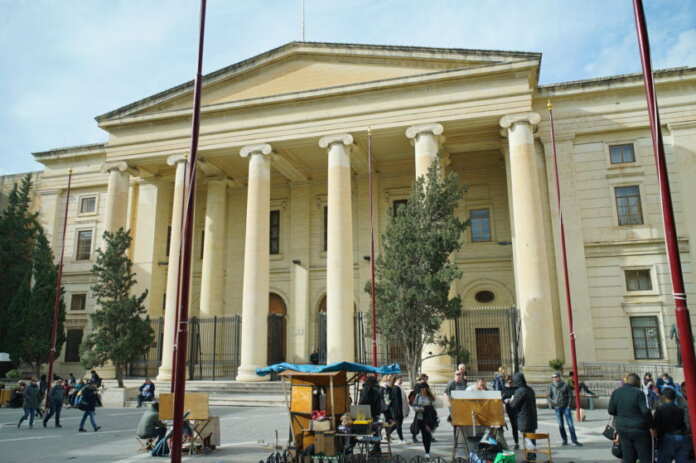 Tista' taqra bil- Malti.
The Constitutional Court has turned down a request by alleged hitman George Degiorgio for a copy of the phone tapping warrant to be exhibited in court.
The Court of Appeal composed of Chief Justice Mark Chetcuti, and judges Giannino Caruana Demajo and Anthony Ellul, has denied the appeal for a copy of the phone tapping warrant.
George Degiorgio known as ic-Ciniz, along with his brother Alfred Degiorgio (il-Fulu) and Vince Muscat (il-Kohhu) stand formally accused of having planted and detonating the bomb that killed investigative journalist Daphne Caruana Galizia on 16 October 2017.
The Court of First Instance had already turned down the request on 3 February. Degiorgio had proceeded to appeal the decision by filing an appeal on 9 March following a ruling on 2 March which allowed him to appeal the decision.
The Court of Appeal noted that before the First Hall of the Civil Court the parties were given the opportunity to plead their case. The applicant had requested that the defendant presents a copy of the warrant issued to tap the phone used by Degiorgio. The First Hall of the Civil Court had turned down the request in a ruling.
During his testimony, lead investigator Keith Arnaud had presented a video recording of Degiorgio's interrogation conducted in December 2017. The video shows Arnaud playing out the recordings of two phone calls made by Degiorgio to two other individuals where he asked them to buy a top up card. According to the testimony, the mobile phone was used by George Degiorgio on the day of the assassination to communicate with his brother Alfred.
Lead investigator could be heard telling Degiorgio that his voice could be heard in the recordings. The phone tapping was used as intelligence by the police during the course of their investigation.
To date, the recordings have not been exhibited in court during the compilation of evidence against Degiorgio before a magistrate's court.
The Head of the Maltese Security Services had testified in court that the warrant was issued by the responsible Minister and in accordance to the law. The warrant in this case is a privileged document and by law could not be exhibited in court.
Furthermore, Police Commissioner Lawrence Cutajar had confirmed under oath that on the 17th February 2017 he had requested that the Security Services place Degiorgio under surveillance in connection to some investigations.
Whilst the Court of Appeal saw no reason to overturn the judgement, it noted that the statement by the Head of the Security Services that the warrant was "in accordance with the law" may not be considered as 'best evidence'. This, the Court noted, could mean that if the warrant is not presented in Court, the statement may be rebutted with other evidence as to its contents and compliance with law or otherwise.