Tista' taqra bil- Malti.
Superintendent of Public Health Professor Charmaine Gauci will deliver a press briefing at 12.30pm.
An infographic released by the health authorities on Friday shows that 31 new coronavirus cases were detected in the last 24 hours following 2,134 swab test.
The health authorities announced that 44 of the 54 individuals who have made a recovery are migrants.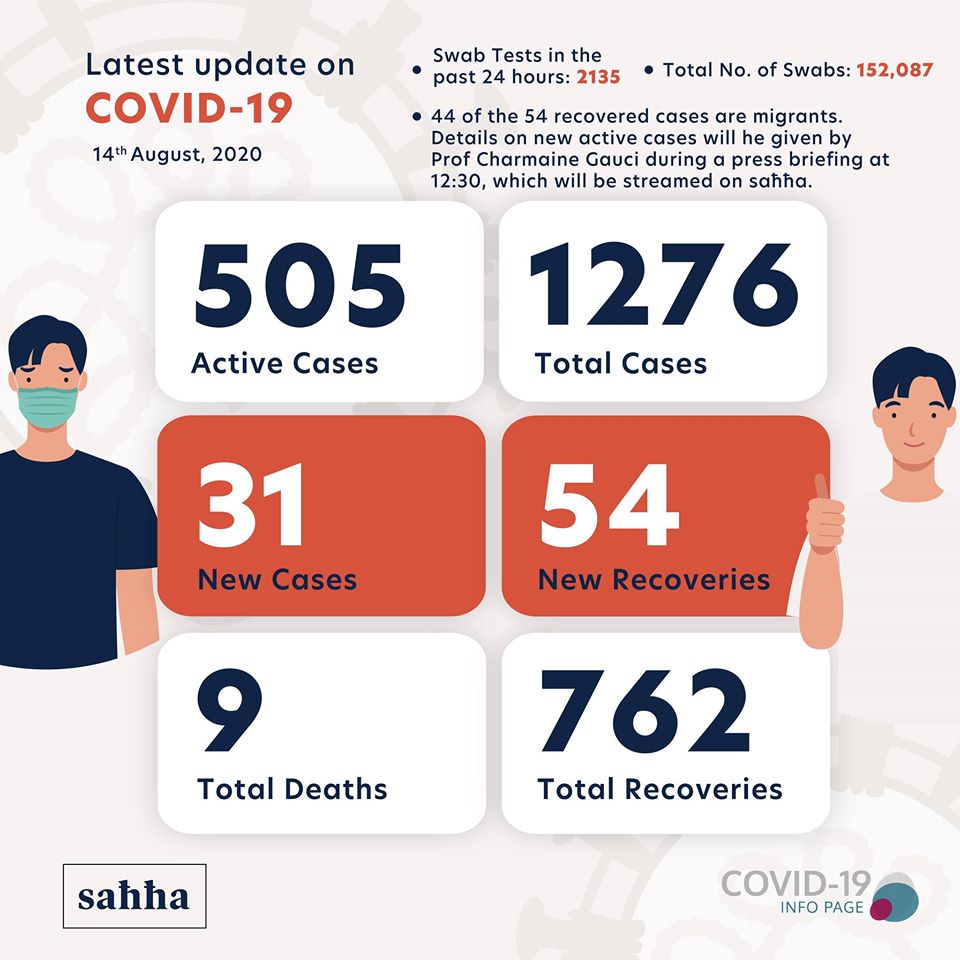 On Thursday, 55 new cases of coronavirus were reported, exceeding the highest single-day increase of cases since the beginning of the pandemic.
The number of active cases has now surpassed the 500 mark.
Thank you for following this live blog. Don't forget to download Newsbook.com.mt's APP for the latest updates.


Asked about the amount of information being divulged by the authorities, Prof. Gauci cites time constrains due to the number of cases being registered.
Asked by Newsbook.com.mt, Prof. Gauci fails to say whether it is her decision to declare a state of public health emergency, saying that she has already explained.


'We have the tools we require at present,' Prof. Gauci replies when asked again about declaring a state of public health emergency.
Asked about the refusal to publish risk assessments, Prof. Gauci that the process is continuously ongoing and reflects the situation in the time.
Prof. Gauci urged the public to disregard unofficial informatio, reiterating that they promised full transparency.
Masks should be worn by patients, visitors, and healthcare workers at Mater Dei Hospital.


Prof. Gauci remarks that they have full personal protective equipment.
Healthcare workers are being swabbed at Mater Dei Hospital swab centre.


Literature from other countries shows that patients who have recovered suffered on the long-term.
Prof. Gauci says that the majority of those who made a recovery have done so without any further complications. She says that some of those who recovered have reported fatigue.
'We can't have enforcement everywhere. We need to understand that regulations are there to safeguard public's health. One should not wait to spot a police officer in order to wear a face mask,' she says.


At present we have to be more cautious, she says.

On the state of public health emergency, she explains that despite not having declared such state, the health authorities has the necessary tools to issue legal notices.
Prof. Gauci says the health authorities interpret increasing number of coronavirus cases according to their distribution. She explains that there were several clusters.


Those who have no symptoms are waiting on average four days.

Qormi and Burmarrad swab centres are full operational.

Health authorities have issued 109 in fines related to not wearing of face masks. 742 inspections were carried out.
A person who has developed symptoms is given an appointment within 24 hours.


In some cases, the patient would be living with either elderly or vulnerable people and therefore would be isolated in hospital to protect the other household members.
Prof. Gauci explains that there were several reasons why patients were receiving treatment in hospital.


The number of health workers in quarantine are:
77 from Mount Carmel Hospital
Seven from Karin Grech Hospital
Two from Gozo General Hospital
One from primary healthcare
56 from Mater Dei Hospital

49,618 inspections were carried out to ensure that various establishments followed social distancing rules and guidelines, Prof. Gauci says.

21,651 were carried out on retail outlets.
1,200 people are currently in quarantine.
The rate of transmission is above 1 – indicating community transition.
Asked about the vaccine developed by Russia, Prof. Gauci says that WHO is following nine vaccines that are currently being developed. The vaccine which was developed in Russia is not part of these nine. Malta is participating in the joint procurement.


On testing of passengers on arrival, the Superintendent says that the protocols are being finalised. The measure will take into consideration the country's testing rate and the number of coronavirus cases being registered in the respective country.
On whether the current surge in cases is the second wave, Prof. Gauci stresses that measures are being implemented, however the health authorities rely on the public's cooperation.


71-year-old female who has no underlying health conditions and she is on oxygen supply.

68-year-old male who has mild underlying health conditions and is breathing through a ventilator.

53-year-old female who has no underlying health conditions and is on oxygen supply
The three patients in intensive care are:
Prof. Gauci delivers the bulletin in English.


The Superintendent urges the public to come forward if they develop any symptoms related to coronavirus.
'The basic principles remain in force: social distancing, wearing of face masks and good hand hygiene,' she says, adding that this would help in curbing the spread of coronavirus.
Speaking about masks, she says that the health authorities felt the need to enforce the recommendation through a legal notice.
She reminds that mass events have been banned, and that there could only be one person for every 4 metres squared. This has been extended to bars, nightclubs and discos. There is also a capping on the amount of people.


Various mitigation measures have been implemented to protect people's health, she adds.
Prof. Gauci says that visiting hours have been reduced to protect patients at Mater Dei Hospital.
The backlog is being dealt with and the waiting time has decreased, she says, adding that people are given an appointment within 24 hours.
Two new swab testing centres have been opened this week – one at St Thomas Hospital in Qormi and another at St John's Hospital in Burmarrad.


Malta is ranked third when it comes to testing.
The number of swab tests has increased, she notes.
Prof. Gauci notes that elderly are contracting the virus. She reminds elderly and vulnerable people to protect themselves from coronavirus. "This is very worrying for us due to the associated complications," she says.


Environmental health officers ensure that those who test positive for coronavirus are abiding by mandatory quarantine rules.

Most patients are recovering at home and are being followed through TeleMedicine.
There are 505 active cases. She explains that importance of following the cases.
A number of sporadic cases were also detected, Prof. Gauci explains, highlighting the need to trace the origin.


She remarks that the Mount Carmel Hospital cluster has been contained.

29 individuals were related to a family cluster.

Three individuals have been added to the language school clusters.
A person was added to the St Venera feast cluster.


38 patients have made a recovery.

A total of 13,239 swab tests were also carried out during the last week.
299 new coronavirus cases were registered during the last week.


One of the spikes relates to migrants that were rescued at sea. The migrants were subsequently placed in quarantine, she explains.
The Superintendent remarks that the cases continue to surge.


77 staff members are in quarantine.
Professor Gauci says that there was an outbreak at Mount Carmel Hospital. Eight patients and four healthcare workers have tested positive.

Three patients are in intensive care – a person is breathing through the help of a ventilator.
16 patients are at Sir Paul Boffa Hospital.
13 patients are at St Thomas Hospital.
8 patients are at Mount Carmel Hospital.
Five patients are at Infectious Disease Unit, one of which is an elderly man whose condition is not stable.


She announces that 44 of the 54 individuals who have made a recovery are migrants, after they were tested again 14 days later.
Professor Charmaine Gauci announces 31 new coronavirus and 54 recoveries.
Good afternoon and welcome to this live blog.
If you want to be the first to receive the latest news on the coronavirus in Malta, download the Newsbook APP here.