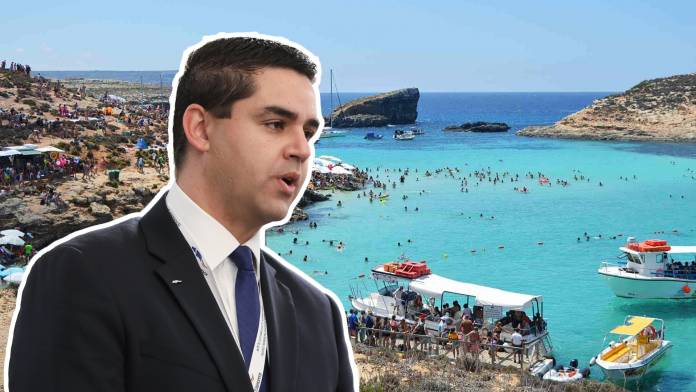 Tista' taqra bil- Malti.
Talks between government and Comino boat operators have failed. Talks were held in order to reach an out of court settlement after a group of operators filed a warrant of prohibitory injunction days before the new exclusive agreement came into force.
Newsbook.com.mt is informed that Transport Malta officials and a number of boat operators held a meeting on Monday. However they did not agree on the way forward. The matter will now be decided in court.
Transport Minister Ian Borg spoke about the issue in the House of Representatives on Monday following a question by Opposition MP and Deputy Leader of Partit Nazzjonalista Robert Arrigo. Borg told the House that only one company had come forward and applied. The company was awarded a 15-year concession. He added that the boat operators who complained on the matter 'took a number of measures to halt the service'.
A group of boat operators filed a warrant of prohibitory injunction before the court followed by a request before the Public Contracts Review Board in a bid to have the contract annulled.
Newsbook.com.mt sent questions to the Office of the Prime Minister which remained unanswered until the time of writing. Prime Minister Robert Abela also refrained commenting on the matter in Parliament when he directed Arrigo to ask the minister concerned.
Transport Malta postponed the contracted service between Malta and Comino on Friday after it received "various concerns". Comino Ferries Co-Op Limited was awarded the 15 year concession to operate a scheduled passenger service between Malta and Comino. The operator was also given priority boarding rights at the quays in Marfa and Ċirkewwa. The company includes Captain Morgan.
Misinformation – Comino Ferries Co-Op Limited
In a statement, Comino Ferries Co-Op Limited said that there was a lot of misinformation on the issue accusing the other boat operators of wanting "anarchy". The company added that the priority boarding rights did not apply to Comino but to Marfa and Ċirkewwa.
The statement quoted Mark Bajada who is one of the seven members of Comino Co-Op. The other members include Julian Zammit Tabona (Captain Morgan), Loreto Xuereb, Joey Camilleri, Johnnie Spiteri, Joseph Xuereb and Samuel Camilleri.