Tista' taqra bil- Malti.
Additional reporting by John Paul Cordina and footage by Miguela Xuereb
The Police has confirmed that a woman in her fifties, Miriam Pace, has been trapped under the debris after a building has collapsed in Ħamrun. The woman's husband and other family members are present at the scene.
The accident happened in Joseph Abela Scolaro Road.
Police said that the building collapsed because of construction works next door. Contacted earlier today by Newsbook.com.mt, Police said that the accident happened at 2:25 pm.
Police officials, medical teams from Mater Dei and members of Civil Protection are on the scene. Drones are also being used to search the area and dogs from the Police dog section are also helping in the search.
Prime Minister Robert Abela and Home Affairs Minister Byron Camilleri have arrived on the scene.
PN Leader Adrian Delia is also present and is accompanied by several PN MPs and officials.
In the meantime, on Facebook, activist group Moviment Graffitti, said that this accident is another goal scored in the battle against the quality of life and against citizen's peace of mind.
MDA suspends member linked to project, offers shelter to victims
In a brief announcement, the Malta Developers' Association said that it had suspended one of its members, an investor into the project, with immediate effect.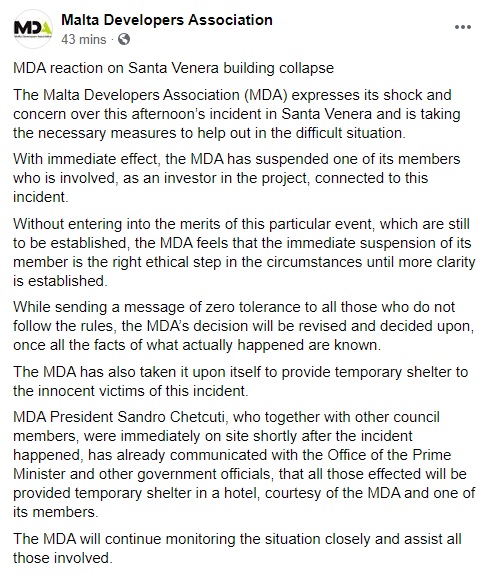 "Without entering into the merits of this particular event, which are still to be established, the MDA feels that the immediate suspension of its member is the right ethical step in the circumstances until more clarity is established," the association said.
The association said that it had also offered shelter to the "innocent victims of this incident."

Other Reactions:
Additional reporting by John Paul Cordina and footage by Miguela Xuereb