Almost 1,800 Maltese people died due to coronary heart disease in 2016, figures from EUROSTAT show.
According to the European Union data aggregator, Malta reported a rate of 177.83 deaths per million of the population resulting from this heart condition. The majority of those were males recorded at 214.06 deaths while Women were reported as 149.08 of deaths.
This places Malta slightly above the established EU average rate of 1,190 deaths resulting from coronary heart disease.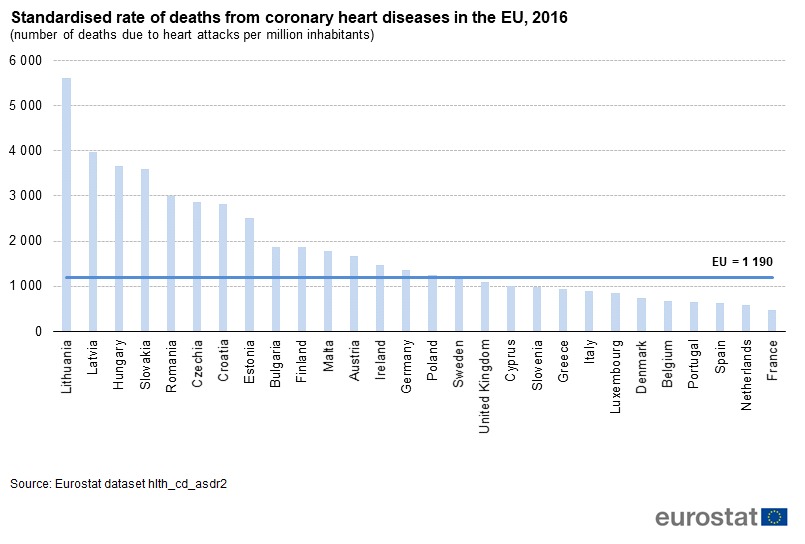 Malta is above its fellow Southern EU neighbours, with Italy recorded as having almost 900 total deaths per million of the population, (89.96 M – 125.91 / F – 65.29). Portugal recorded only 660, (M – 93.72 / F – 45.48). Spain recorded just over 641 deaths per million of the population (M – 95.49 / F – 40.73). Cyprus recorded a rate of just over 1000 people (100.07) with Males recorded at a rate of 146.62 and Females 61.22, per million of the population.
EUROSTAT reports that Lithuania recorded the highest number of cases of heart attacks per million of the population, at 5,610. Fellow Eastern European nations Latvia (4,000 deaths) and Hungary (3,670 deaths) occupied the second and third positions. France recorded the lowest rate of heart related deaths in Europe at 470 per million of the population.
Overall, the aggregator reports that the number of coronary heart related deaths reported in the year of 2016, amounted to 609,000. Around 90% of these involved people over the age of 65 (532,400), 87% of this EU total.
According to a 2015 report from the Maltese Health Ministry, 21.1% of Maltese deaths in 2014 were related to heart related (cardiovascular diseases).  Combined with the rest of the world, coronary heart disease accounted for 38% of all deaths in 2014. Heart failure was recorded as 5.7% of all deaths.
The same report outlined that standardised Maltese (Male and Female) mortality rates connected to coronary heart disease (CHD) were higher than the rest of the EU28, despite both declining between 1985 and 2014. In the period between 2012 and 2013, Maltese figures showed that around 180 Maltese males per 100,000, died from CHD.  The EU average sat at around 110 per 100,000. As for females, the figure sat at just over 110 per 100,000, around 50 more than the EU average (51 per 100,000).
For those under the age of 65, the figures fluctuate less and are closer to the EU 28 average. In 2011, Maltese Males are recorded at around 38 per 100,000 while the EU average sits at 30 per 100,000. Females are recorded at 11 per 100,000 while the EU average sits at 6 per 100,000.
Speaking to the Malta Independent last year, the Chair of the Department of Cardiology and President of Maltese Cardiac Society, Dr Robert Xuereb, explained that, 'Heart disease remains the number one killer internationally, including in Malta, and the vast majority of heart conditions are reversible and avoidable. All we need to do is take action.'