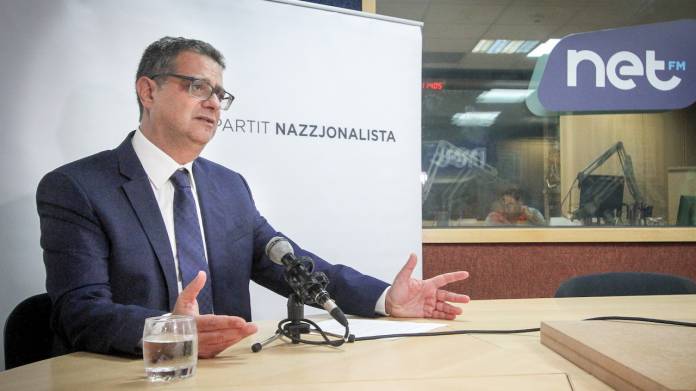 Tista' taqra bil- Malti.
Statistics have shown that Malta's air pollution is amongst the worst in Europe; and therefore, a national environmental emergency should be declared. This was said by Leader of Partit Nazzjonalista (PN) Adrian Delia during an interview on NET FM.
Delia stressed that this poor air quality is resulting in many deaths related to respiratory illnesses. He mentioned how trees are being removed and open spaces are being lost. Delia stated that besides declaring a national emergency, all measures which are fighting climate change should be enforced.
Read: "Over 570 persons are dying every year" – PN
PN insists that MFSA report should be investigated
The Party Leader explained that the Opposition has written to the Public Accounts Committee (PAC) insisting that the Committee investigates and discusses the recent reports concerning the handing out of funds in order to terminate contracts within the Malta Financial Services Authority (MFSA).
Member of the MFSA Board Joe Brincat submitted a legal letter against the Chief Executive of the same Authority, Joe Cuschieri. Recently, media reports revealed that an official had received a "golden handshake" together with an early retirement scheme, in an attempt to reach an agreement which would terminate his employment.
Read: Updated: MFSA Director submits legal letter against Chief Executive
Muscat should meet with Caruana Galizia's family
Delia stated that following continuous pressure from the Opposition together with a deadline given by the Council of Europe, the Prime Minister has finally announced an independent public inquiry into the assassination of the journalist Daphne Caruana Galizia. He added that should have been done a long time ago as there was no reason preventing an inquiry from being issued.
The Leader of the Opposition also expressed the idea that the Prime Minister should meet with Caruana Galizia's family to prove that the inquiry is, in fact, independent and autonomous.
Read: Daphne Inquiry: Prof. Refalo not impartial – Repubblika