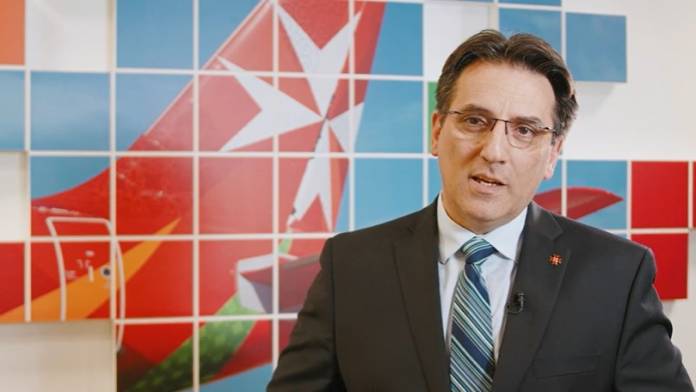 Tista' taqra bil- Malti.
The Airline Pilots' Association (ALPA) has rebutted Air Malta's allegations, as well as claims made by Economy Minister Silvio Schembri that the pilots attempt to hijack Air Malta. In a press release published this afternoon, ALPA explained the series of events which led to the current disagreement between the association and the national airline, from the association's end, allegedly due to a pre-conceived plan by the company to exploit coronavirus so as to get out of standing collective agreements with the unions representing its workers.
According to the association, the first indication that things were going to be pushed through "with lies and deceit" came about on the 24th of March, when ALPA and other unions and associations were called for an urgent meeting chaired by Air Malta CEO Clifford Chetcuti. The association described this meeting as lacking discussion, but focusing on the company's plans forward lacking consultation. This, according to the association, was how the company planned "to exploit Covid-19" so as to undermine existing collective agreements signed less than two years ago.
In the meantime, ALPA kept pleading with Air Malta's management for an effective and meaningful consultation to get underway urgently, but to no avail. On the 28th March, Air Malta sent its proposals to be agreed to and signed by no later than 1st April. Air Malta obliged to grant ALPA its first meeting on the 2nd April. This lasted 30 minutes, and confirmed to ALPA that this was a done deal. ALPA kept asking for a different approach to be taken.
On the 5th April, the company informed ALPA that it had been "pushed into a corner to regrettably have to take other measures in the best interest of the Company." Calls for another meeting were not met, but rather, ALPA was informed that Air Malta had activated a process of Collective Redundancies. In the application to DIER, Air Malta requested the department to not allow any extensions to the 30 day consultation process, thus confirming to ALPA that Air Malta was not interested in engaging into anything meaningful but rather force unions into accepting the unfair proposals. Air Malta also indicated it would not follow its collective agreement obligations with regards to severance packages.
ALPA stated in its press release that "This effectively meant that pilots who had served the company for up to 30 years, would effectively be laid off without any further consideration, and without having been afforded adequate time and resources to give a stable platform to their views. This is a veritable and pitiful state of affairs, wherein the company treats loyal employees with deplorable disdain whilst highlighting the predatory and opportunistic behaviour of the CEO, Mr Chetcuti. ALPA was finally granted a meeting on the 9th April 2020, where the CEO was conspicuous by his absence."
ALPA was informed that the CEO had offered to give up 70% of his salary and perks, however, it was later revealed, said the association, that Senior Management had only accepted a 10% pay cut whilst demanding that pilots take a 90% pay cut or face the axe. ALPA stated that to date, it has not received any reply with regards to its requests for a meeting with the CEO. Apart from not taking up ALPA's request for a meeting, the company has allegedly "resorted to informing the DIER on the 15th April 2020, to slash the 30-day effective consultation period prior required prior to enforcing collective redundancies, to just 15 days and implied the DIER to be allowed to lay off 80% of its pilots by Tuesday, the 21st April 2020."
In spite of this, ALPA said that it remains available to meet the CEO and carry forward an equitable and effective process, whilst securing the uncertain future of Air Malta's pilot workforce.
If you want to be the first to receive the latest news on the coronavirus in Malta, download the Newsbook APP here.