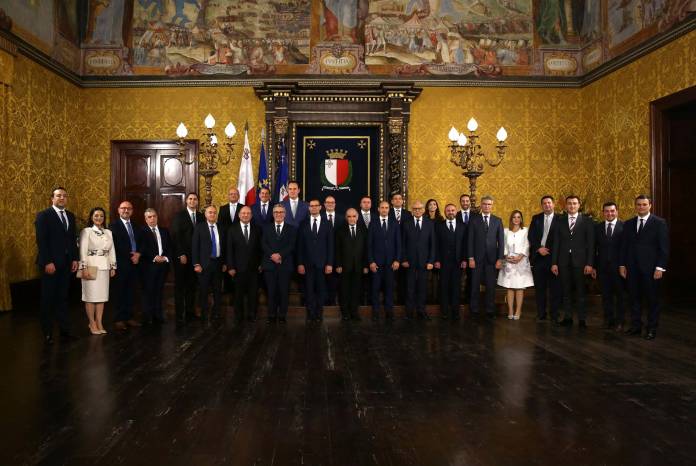 Tista' taqra bil- Malti.
A government statement has confirmed information published by Newsbook.com.mt that the cabinet reshuffle will include newly minted ministries besides newly minted ministers. The government statement said that the new cabinet is characterised by young talent , compact and with the inclusion of all the female elected members to the government benches.
The Cabinet
Robert Abela – Prime Minister
Chris Fearne – Deputy PM and minister for Health
Evarist Bartolo – Minister for eu and Foreign affairs
*Michael Farrugia – Minister for the Elderly and Active Ageing
*Owen Bonnici – Minister for Reasrch and Innovation and Post Covid Strategy co-ordinator
José Herrera – Minister for National Heritage, Art and Local Government
Carmelo Abela – Minister in the Office of the Prime Minister
Ian Borg – Minister for Transport, Infrastructure and Capital Projects
Michael Falzon – Minister for Solidarity, Social Justice, the Family and right so f Children
Edward Zammit Lewis – Minister for Justice, Equality and good governanc
Anton Refalo – Minister for Agriculture, fisheries, food and rights of animals
Roderick Galdes – Minsiter for Social Accomodation
Justyne Caruana – Minister for Education
Silvio Schembri – Minister for Economy and Industry
*Julia Farrugia Portelli – Minister for Inclusion and Quality of life
Aaron Farrugia – Minister for the Environment, Climate Change and Planning
Clint Camilleri – Minister for Gozo
Byron Camilleri – Minister for home affairs, national security and Law enforcement
Clayton Bartolo – Minister for tourism and consumer protection
Miriam Dalli – Minister for Energy, enterprise and Sustainable Development
Clyde Caruana – Minister for Finance and work
Parliamentary Secretaries
Stefan Zrinzo Azzopardi – Parliamentary Secretary for EU funds at OPM
Rosianne Cutajar – Parliamentary Secretaryfor civil rights and reforms at the ministry of Justice
Clifton Grima – Parliamentary Secretaryfor Sprot, recreation and voluntary organisations at the Ministry for Inclusion and Quality of Life
Chris Agius – Parliamentary Secretaryfor construction at the Ministry for the environment, climate change and planning.
Alex Muscat – Parliamentary Secretary for citizenship and communities at the Home Affairs Ministry
Deo Debattista – Parliamentary Secretaryfor consumer protection and public cleansing at the Ministry for Tourism
*New minister/New Ministry
New Appointment
Meanwhile, the same statement announced the appointment of Glenn Micallef as Chef de Cabinet for the Prime MInister to replace Clyde Caruana, now minister. An economist like his predecessor, MIcallef will be the third incumbent to this post in 2020.
Earlier…
While official sources have as yet failed to confirm or deny that a reshuffle is underway, Newsbook has been informed of some of the changes.
Justyne Caruana is touted to be returning to cabinet with the education portfolio. Owen Bonnici will be taking on one of the new ministries, that of Research and innovation. This aspect has also received major funding from the EU budget so, according to sources, this appointment will be able to target those funds. Clayton Bartolo will take over Tourism while the present incumbent Julia Farrugia Portelli will take over another new ministry, that for Inclusion and Disability. Michael Farrugia too is moving to a 'new' ministry, that relating to the Elderly which is being hived off as an independent ministry. Ian Borg's massive portfolio will shed Lands Authority which will pass on to Silvio Schembri, These two will therefore see a change in portfolio content but not really in anything else. Miriam Dalli, newly co-opted to parliament is set to receive the Energy portfolio, a ministry which she had PR'ed for under Kondrad Mizzi in the first Labour administration. While no mention has been made of Clyde Caruana's appointment, the same sources said that his elevation to Finance minister is a no-brainer given the stepping down of Edward Scicluna from that post.
If this line up is confirmed, the cabinet which currently stands at 18 ministers and 7 parliamentary secretaries will rise to 21.
Earlier…
Finance Minister Edward Scicluna's kick upstairs to the position of Central Bank Governor is set to give Prime Minister Robert Abela the grounds to implement a Cabinet reshuffle that has long been speculated upon, with various media reporting that the process is already underway.
The Times of Malta has reported that Abela has started calling in government MPs for one-to-one meetings, while MaltaToday is reporting that former minister Justyne Caruana is set to return to Cabinet, likely as education minister.
Few would doubt that the new cabinet will include the two MPs co-opted by Abela last month: his head of secretariat Clyde Caruana and popular former MEP Miriam Dalli.
Caruana has long been touted as a possible successor to Scicluna, whereas Dalli's European Parliament efforts in favour of the European Green Deal suggest that she is likely to land a portfolio which touches on energy or environment issues.
With Abela having appointed 17 ministers and 8 parliamentary secretaries, only 8 other Labour MPs may be considered for inclusion.
Apart from Caruana, who was confirmed as Gozo Minister by Abela only to step down within days after her husband's close ties to Yorgen Fenech were revealed, the list comprises government whip Glenn Bedingfield, former ministers Manuel Mallia and Joe Mizzi, former parliamentary secretary Anthony Agius Decelis, Ian Castaldi Paris, Silvio Grixti and Jean Claude Micallef.
The list of potential newcomers would also include Scicluna's successor. Though a casual election should be held, it remains to be seen whether there will be a repeat of what had happened following the resignation of Joseph Muscat, with no candidates stepping forward to give Abela another chance to appoint a candidate of his choice.
It remains to be seen whether any existing ministers or parliamentary secretaries would get the boot, though The Times, quoting sources, suggested that there would be few if any casualties.
Scicluna will be succeeding Mario Vella as Governor of the Central Bank of Malta at the end of the year, with Vella appointed Special Commissioner for Economic, Financial and Trade Relations with the UK. He is set to resign from Cabinet in the coming days, and leave Parliament by the end of the ear.
The announcement came just weeks after Scicluna dismissed reports that he planned to retire from Parliament in the wake of the 2021 Budget speech.