The Malta Hotels and Restaurants Association is discussing the current situation in the sector with the Prime Minister this morning. The association is pressing for urgent measures to ensure that the once burgeoning tourism industry does not fall victim to COVID-19. Newsbook.com.mt is informed that this meeting is one of several talks which are taking place in these hours prior to the second wave of economic aid. This is planned to be unveiled by the government towards the middle of this week. The Malta Chamber of SMEs meanwhile has said that the government has effectively made another decisive move towards the lockdown. It appealed to the government for greater clarity about the exact list of operations that will be allowed to continue.
The economic aid package unveiled by the government last week was met with widespread criticism particularly from the tourism and retail sectors which are bearing a large part of the brunt of COVID-19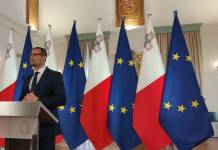 Industry sources told Newsbook.com.mt that the sectors which were hardest hit were those which depended on direct human interaction such as retail and tourism. Added to these were the English Language schools which are in serious cash-flow problems and the companies involved in entertainment and MICE.
If you want to be the first to receive the latest news on the coronavirus in Malta, download the Newsbook APP here.