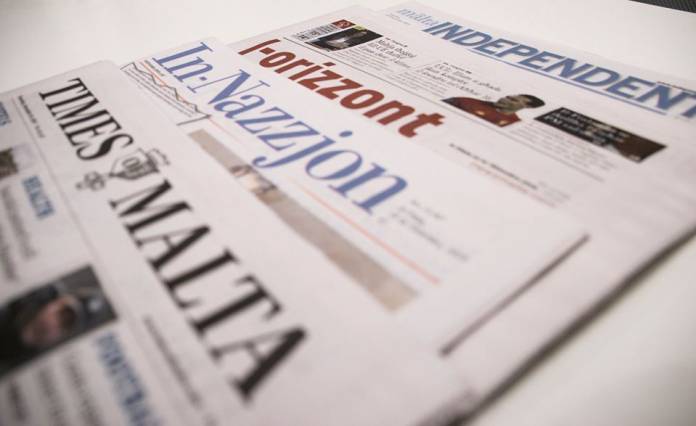 Good morning,
These are today's newspapers' front page stories.
Business Today speaks to a Malta Gaming Authority representative who said that some companies in the gaming sector are facing severe challenges following the closure of land-based casinos and suspension of sporting events.
The Malta Business Weekly leads with the completion of the acquisition process of Vodafone Malta by Monaco Telecom for €250 million. The company said it will focus on driving network investment and innovation.
The Times says that a major data breach has been reported after a list of more than 330,000 voters originally compiled by the Labour Party was leaked online. The Commissioner for Data Protection is investigating a company owned by a former director at One Productions.
The Independent reports that 19 new Covid-19 cases were registered on Wednesday, the joint-highest number with March 25. There have now been 188 cases, two patients have recovered while another two are in intensive care.
L-Orizzont says that prices for meat products have increased by almost seven percent in the wake of the pandemic. The paper says that new international pressures on producers are driving expenses upwards.
In-Nazzjon says that the government and opposition reached an "historic" agreement in parliament over the next Chief Justice, Judge Mark Chetcuti. Opposition Leader Adrian Delia said that a similar accord could be made on the new Police Commissioner.
The Times reports that the government Ornis committee will recommend the opening of the Spring hunting season for quail. If the decision is approved by the minister, hunters will be allowed to hunt from two hours before sunrise to noon for 21 days.
The Malta Business Weekly carries an announcement by Bank of Valletta that dividend distribution has been postponed until October. BOV says it is following recommendations by the European Central Bank.
The Independent quotes Environment Minister Aaron Farrugia who played down concerns over a new online conferencing system used for Planning Authority meetings. Critics said that it will impede people without access to the technology.
In-Nazzjon follows a PN press conference presenting new proposals on the reduction of water and energy bills during the coronavirus crisis. Deputy Leader David Agius said that the recommendations support families and businesses.
Business Today quotes a report by the Magellan Robotech department of robotics which predicts that Covid-19 cases in Italy will drop to zero by the first week of May. The study uses single forecasting models on citizens' behaviour.
L-Orizzont says that Minister Carmelo Abela launched separate helplines for employers and employees seeking information about conditions of work. Abela said that questions about industrial relations have tripled in the last weeks.
The Malta Business Weekly says that the Spanish government declared that the country is in "stabilisation phase" as the virus spread slows down. The country recorded more than 102,000 cases leading to more than 9,000 deaths.