Around 130 art lovers recently had the opportunity to meet and engage with contemporary artist Celia Borg Cardona and fellow artist curator Francesca Balzan during Gallery Talks that were held by Bank of Valletta as a continuum to the 27th BOV Retrospective Art Exhibition.
The talks were open for the general public and for the bank's employees.
During these sessions, the strong bond between curator and artist could be easily seen. Prompted by Balzan, Borg Cardona spoke about her life, her passion and her transitory journey from a career in science to one in art. Taking cue from each other, they took their captivated audience on a carousel of stories that brought each painting to life.
"It was not an easy task to curate the exhibition. In other retrospective exhibitions, one usually sees art displayed in a chronological manner," said Balzan. "But Celia hit the ground running. She was always confident in her work and her earlier paintings are simply as good as her later ones. So I opted for a thematic display of Celia's art."
The size of Borg Cardona canvases are astounding and the way she attacks her canvases is incredible. She has a most unique vision and breaks away from tradition showing over-depicted subjects such as Valletta, from totally unique viewpoints.
"I explore different viewpoints in my paintings," stated Borg Cardona, "Photographers constantly use the aerial view approach in their work, but for some reason artists do not. I find that this gives you an interesting perspective – shapes, spaces, objects take on a different meaning and exploration. I am less interested in the dynamics or relationships between people than in the forms they make in space."
So Borg Cardona takes photos of crowded group events and then translate these into paintings. She uses rapid, energetic and thick brushwork.
Her largest work so far, most likely the biggest painting in Malta by a female artist, was the Simonds Farsons Cisk commission, measuring 7.3 x 7.5 metres, which consists of 25 canvases in assembly. The colossal work was created over 12 months. The first time that Celia saw the whole picture assembled, was when each canvas was laid out in the street and she got into a cherry picker to get an aerial view of her work of art.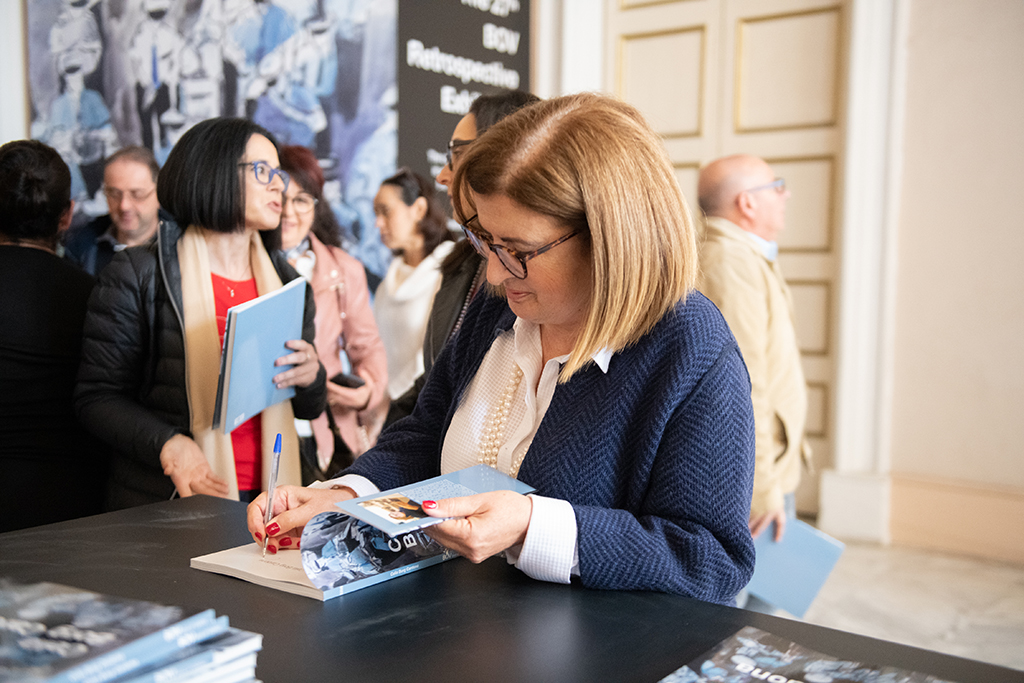 The exhibition features 29 works of art by Celia Borg Cardona and is being hosted by Bank of Valletta at the Gran Salon in the Museum of Archaeology, Auberge de Provence in Valletta. It remains open to the general public until the 4th March 2020. The opening hours are from Monday to Sunday between 09.00 am and 5.00 pm (last admission being at 4.30 pm).
This content was supplied by Bank of Valletta