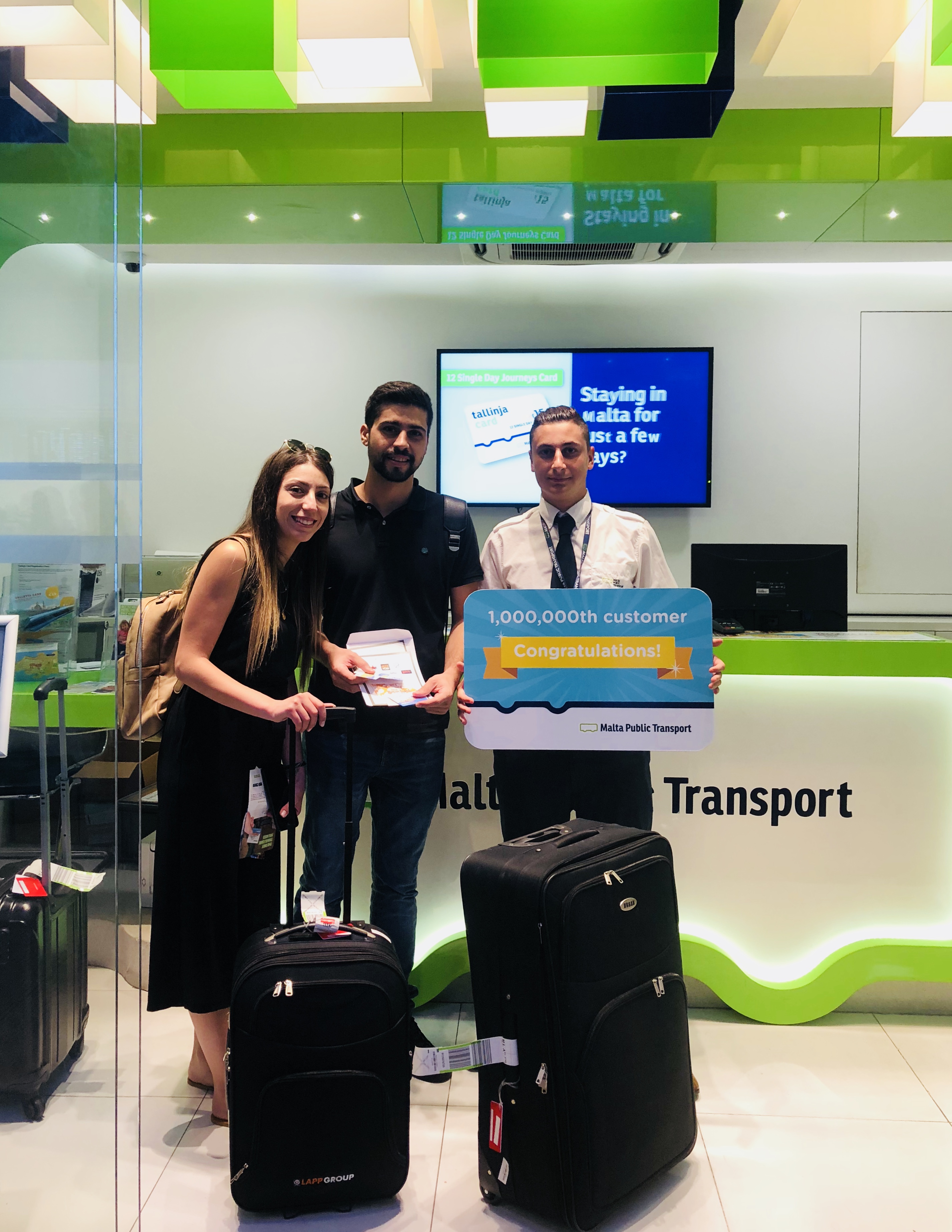 On the occasion of the one-millionth over-the-counter travel card to be sold by Malta Public Transport, the company surprised the lucky couple who made this purchase at the Malta International Airport Arrivals Lounge with a gift.
George and Andria, from Cyprus, were on their first trip to Malta when they landed on the 24th of August 2018. The couple entered the Malta Public Transport sales office to purchase travel cards and were surprised to learn that not only were they getting their travel card free of charge, but also receiving gifts to enjoy on their holiday.
The couple were each given an ExplorePlus card, which provides seven days of free travel on public transport buses, two trips on the Valletta Ferry, and an option of a cruise to Comino on Captain Morgan cruises or a day-tour on City Sightseeing hop-on, hop-off buses. They were also given the new Valletta Card, which provides 24 hours of travel on public transport buses, entrance into museums, heritage sites and/or the Malta 5D experience, a trip on the Valletta Ferry and free minutes on the newly-launched Tallinja Bike. The couple also received restaurant vouchers and bowling tickets to make their holiday complete.
Malta Public Transport offers customers a number of over-the-counter travel cards, that offer convenience and added value to those travelling in the country for a short period of time. Apart from the ExplorePlus card and the Valletta Card, the company also offers Adult and Child Explore cards with seven days of unlimited travel by bus, and the 12 Single Day Journey card, which offers a bundle of 12 trips at €15.
The over-the-counter travel cards offer the same convenience as the personalised Tallinja Cards, since customers do not need to pay in cash each time they board the bus, while also benefiting from cheaper rates than cash tickets.